Posts for: November, 2016
By ental Solutions of Winter Haven
November 26, 2016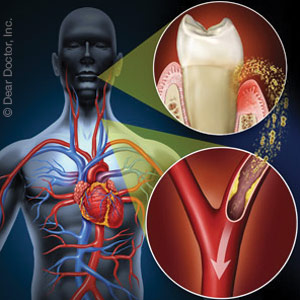 If you have periodontal (gum) disease, you probably already know you're in danger of eventual tooth and bone loss if the infection isn't brought under control. But if you also have diabetes, the effects from gum disease could extend well beyond your mouth.
Gum disease is a bacterial infection caused by plaque, a film of food remnant that builds up on tooth surfaces mainly due to poor oral hygiene. As the infection grows, your body's immune system responds by flooding your gum tissues with antibodies to fight it, resulting in inflammation. As the inflammation persists, though, it damages the gum and underlying bone tissue, which in turn leads to gum and bone loss from the teeth.
Diabetes also causes an inflammatory response within the body. The disease develops either as a result of the body's decreased ability to produce insulin to balance the glucose (sugar) levels in the bloodstream (Type 1) or the body develops a resistance to insulin's effects (Type 2). As a result diabetics experience abnormally high blood glucose levels, a condition called hyperglycemia. This triggers chronic inflammation that can lead to inhibited wound healing, increased risk of heart, kidney or eye disease, coma or death.
Gum disease can worsen diabetic inflammation, and vice versa. The effects of the oral infection add to the body's already overloaded response to diabetes. In turn, the immune system is already compromised due to diabetes, which can then increase the severity of the gum disease.
Research and experience, though, have found that pursuing treatment and disease management for either condition has a positive effect on managing the other. Treating gum disease through plaque removal, antibiotic therapy, surgery (if needed) and renewed oral hygiene will diminish the oral infection and reduce the body's immune response. Caring for diabetes through medication, diet, exercise and lifestyle changes like quitting smoking will in turn contribute to a quicker healing process for infected gum tissues.
Treating gum disease when you have diabetes calls for a coordinated approach on both fronts. By caring for both conditions you'll have a more positive effect on your overall health.
If you would like more information on the relationship between diabetes and gum disease, please contact us to schedule an appointment for a consultation.
By ental Solutions of Winter Haven
November 11, 2016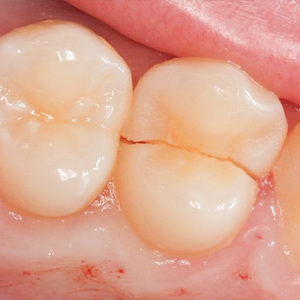 While most tooth loss stems from dental disease or injury, another major cause is a condition known as cracked tooth syndrome. What begins as a microscopic crack in an individual tooth's enamel could ultimately grow to a fracture that endangers its survival.
Most often related to age-related brittleness, expansion and contraction of the enamel surface because of hot foods followed by cold foods and beverages, or grinding habits, cracked tooth syndrome usually occurs in three phases. The first phase is the emergence of miniscule cracks in the outer enamel known as craze lines. These can be very difficult to detect even with x-rays, and usually calls for specialized detection methods such as probing with a sharp instrument (an explorer) or fiber-optic lighting with dye staining to highlight enamel abnormalities. If you have pain symptoms, we may ask you to bite down on a bite stick or rubber pad to locate the area by replicating the sensation.
In the next phase, the craze line grows into a crack that penetrates below the enamel into the tooth's dentin. Pain becomes more prominent and the risk of infection increases. Left untreated, the crack may enter the third phase, a full break (fracture) occurring deep within the inner layers of the tooth. The deeper the fracture occurs, the more serious the danger to the tooth, especially if the pulp is exposed.
The best treatment approach is to attempt to detect and treat a crack as early as possible. Craze lines and moderate cracks can usually be repaired with restorative materials like composite resins. A deeper crack extending into the pulp may require a root canal treatment and the tooth covered with a permanent, protective crown.
If, however, the fracture is too deep, the tooth may be beyond repair and will need to be extracted and replaced with a dental implant or permanent bridge. In any event, the sooner a cracked tooth is discovered and treated, the greater your chance of avoiding pain, discomfort, and, ultimately, tooth loss.
If you would like more information on cracked tooth syndrome, please contact us or schedule an appointment for a consultation. You can also learn more about this topic by reading the Dear Doctor magazine article "Cracked Tooth Syndrome."