Posts for: August, 2016
By ental Solutions of Winter Haven
August 20, 2016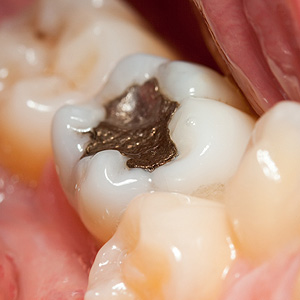 With all the new tooth-colored fillings for cavities, it's easy to overlook metal amalgam. While this mainstay of dental care for over a century might not be as attractive as composite resins or glass and resin ionomers, it still has the advantage of strength and durability.
Amalgam is a stable metal alloy usually made up of silver, tin, copper and mercury. The metals are proportioned and mixed precisely to guard against "free" mercury molecules, which could pose a health hazard. The mixture is pliable at first, but then sets hard once molded into the prepared area of the tooth.
Besides strength, amalgam's other advantages include low cost, high resistance to wear and biocompatibility (not toxic to the body or allergy-producing). At the same time, it can require more tooth structure removal to accommodate a filling and cause higher sensitivity to temperature for a while after installation. Its main disadvantage, however, is appearance — it's now considered unacceptable from an aesthetic point of view to use it in visible areas like the front teeth.
Because of this, materials resembling natural tooth color are coming into vogue, especially as their strength improves. Still, dental amalgam continues to play a useful role, especially in less visible back teeth with higher chewing forces.
One past concern about dental amalgam is the inclusion of mercury in the alloy. As mentioned before, mercury is hazardous in a "free" form when not knit microscopically with other metals; as such it can emit a vapor that could enter the bloodstream and damage the nervous system. But after several studies by various organizations, the American Dental Association has concluded amalgam's precise mixture prevents the mercury from taking this form: although some vapor is given off during chewing it's far too low in concentration to pose any danger.
Dental amalgam continues to be an effective choice for fillings. Whether it's the right choice for you will depend on the type and location of a tooth to be filled, and whether durability is a higher concern than appearance. If we do recommend an amalgam filling, you can be assured it's a safe and lasting choice.
If you would like more information on your choices for dental fillings, please contact us or schedule an appointment for a consultation. You can also learn more about this topic by reading the Dear Doctor magazine article "Silver Fillings — Safe or Unsafe?"
By ental Solutions of Winter Haven
August 05, 2016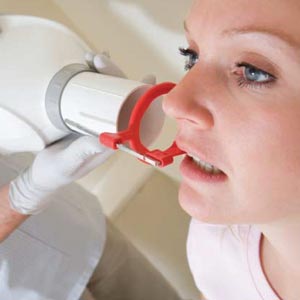 It's difficult to measure how x-ray imaging has transformed dentistry since its use became prominent a half century ago. As equipment and methods standardized, the technology revolutionized the way we diagnose tooth decay and other mouth-related issues.
One of the more useful of these methods is called the bitewing x-ray. The term comes from the shape of the device a patient holds between their teeth with the film attached on the side toward their tongue. We direct the x-ray beam to the outside of the patient's cheek, where it passes through the teeth to expose on the film. Its particular design provides clearer images since the patient's bite helps keep the film still and distortion-free, making it easier to view signs of early tooth decay.
Bitewing x-rays usually consist of four films, two on either side of the mouth, necessary to capture all of the teeth (children with smaller jaws, however, often only require one film per side). How frequently they're conducted depends on a number of factors, including the patient's age: children or young adolescents are usually filmed more frequently than adults, usually every six to twelve months. Frequency also depends on a patient's particular decay risk — the higher the risk the more frequent the x-ray.
Regardless of how often they're performed, a similar application principle applies with bitewing x-rays as with any other radiological method: As Low As Reasonably Achievable (ALARA). With the ALARA principle in other words, we're looking for that sweet spot where we're able to detect the earliest stages of dental disease with the least amount of radiation exposure.
Bitewings fit this principle well: a patient receives only a fraction of the radiation exposure from a four-film bitewing as they do from a daily dose of environmental radiation. Factor in new digital technology that reduces exposure rates and bitewings pose virtually no health risk to patients, especially if conducted in a prudent manner.
The benefits are well worth it. Thanks to bitewing x-rays we may be able to diagnose decay early and stop it before it causes you or your family member extensive tooth damage.
If you would like more information on the importance of x-rays in dentistry, please contact us or schedule an appointment for a consultation.