Posts for: July, 2016
By Dental Solutions of Winter Haven
July 21, 2016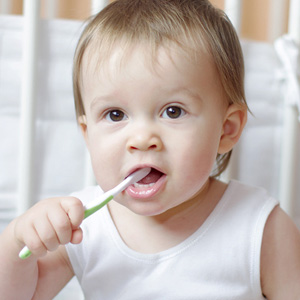 From the moment your child's first tooth appears, usually between six and nine months, you need to be concerned about Early Childhood Caries (ECC). This particular form of tooth decay can have a devastating effect on primary (baby) teeth and lead to their premature demise. Losing one before its time could adversely affect how the future permanent tooth comes in.
You can help prevent ECC with daily brushing and cleaning, regular dental visits (beginning around their first birthday) and limiting the sugar they eat. Here are 3 more things to consider for boosting your prevention efforts.
Breastfeeding. Pediatricians generally recommend breastfeeding if possible for a baby's overall health, including dental development. And although breast milk contains fermentable carbohydrates that boost bacterial growth, it no more promotes tooth decay than similar foods and beverages. That said, though, once the child begins to eat and drink other foods and beverages, the combination of sugars in them and breast milk could increase the bacteria that causes ECC. This is another good reason to wean the child from breast milk as they begin to eat more solid foods.
Bottles and pacifiers. It's quite common for parents and caregivers to soothe a fussing or crying baby with a bottle filled with formula, milk or juice for sipping, or even a pacifier dipped in jam, sugar or some form of sweetener. But these practices can create an environment that promotes high acid production from bacteria feeding on the sugars. Instead, avoid giving them a "prop-up" bottle filled with liquids containing sugar and try to limit bottle use to mealtimes. And provide them pacifiers without sugary additives if you use them.
Medicines. Children with chronic illnesses or other needs often take medication containing sugar or with antihistamines that reduce the flow of acid-neutralizing saliva. If the medications can't be altered, then it's extra important for you to practice diligent, daily hygiene to reduce the effect of higher mouth acid.
If you would like more information on dental disease prevention in babies and young children, please contact us or schedule an appointment for a consultation. You can also learn more about this topic by reading the Dear Doctor magazine article "Age One Dental Visit: Why it's Important for Your Baby."
By Dental Solutions of Winter Haven
July 06, 2016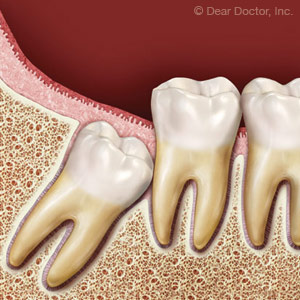 Teeth damaged by decay, periodontal (gum) disease or trauma are often removed (extracted) if they're deemed beyond repair. But there's another reason we may recommend an extraction: a tooth is causing or has the potential to cause problems for other teeth and your overall oral health.
Some of the most frequent cases of "preventive extraction" involve the third molars, or wisdom teeth, located in the very back of the mouth. They're usually the last permanent teeth to come in, which is related to some of the problems they can cause. Because they're trying to come in among teeth that have already erupted they don't always erupt properly, often at abnormal angles or not fully erupting through the gums, a condition called impaction.
Impacted or misaligned wisdom teeth can put pressure on adjacent teeth and their roots, which can cause root resorption that damages the second molar. They can also increase the risk of periodontal (gum) disease in the gum tissues of the second molars, which if untreated can ultimately cause teeth and bone loss.
Because of current or possible future problems with wisdom teeth, we often consider removing them at some early point in the person's dental development. Such a consideration shouldn't be undertaken lightly, since wisdom teeth extraction is often complex and fraught with complications, and it usually requires a surgical procedure.
That's why we first conduct a comprehensive examination (including x-ray or other imaging to determine exact location and possible complications) before we recommend an extraction. If after careful analysis an extraction appears to be the best course, we must then consider other factors like planned orthodontics to determine the best time for the procedure.
Once performed, a wisdom tooth extraction can resolve existing problems now and reduce the risks of gum disease or malocclusions in the future. When it comes to wisdom teeth, removing them may be in your or your family member's best interest for optimal dental health.
If you would like more information on wisdom teeth, please contact us or schedule an appointment for a consultation. You can also learn more about this topic by reading the Dear Doctor magazine article "Wisdom Teeth."