Posts for: October, 2015
By Dental Solutions of Winter Haven
October 23, 2015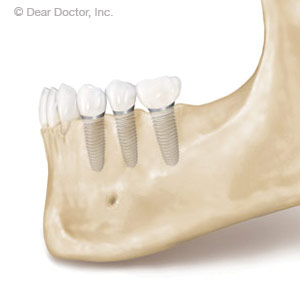 You've probably heard a lot about dental implants as replacements for missing teeth. So, why are they so popular with both patients and dentists? While other restorations can mimic the color, shape and texture of natural teeth, dental implants have one clear advantage — and it's all about the bone.
The bone in your jaws provides stability and structure for teeth — without it and the intricate system of gum tissue attachments teeth couldn't survive the normal biting and chewing forces they encounter every day. That's why bone health is crucial for maintaining tooth integrity.
Teeth also help bone to remain strong and healthy. The forces we generate as we chew transmit through the tooth roots to the bone, which stimulates continuing growth. If a tooth is missing, however, the bone around it doesn't receive this stimulation and may begin to lose some of its volume and density — up to a quarter of its width in just the first year after tooth loss.
This bone loss continues even with other restorations because they're not able to stimulate bone growth. But dental implants can. This is because the portion of the implant imbedded into the bone is constructed most often of titanium, which has a natural affinity toward bone. Bone cells are naturally attracted to titanium and will begin to grow and attach to the metal surface, a process known as osseointegration.
Through osseointegration, the implant develops a durable bond with the jawbone a few weeks after surgery that surpasses other restorations, and is a prime reason for their success rate. Although installing implants can be an expensive undertaking, their proven longevity may result in less maintenance, repair or replacement costs over time than other replacement options.
If you're considering dental implants, remember it's what you can't see beneath the attractive crown that makes them special. And it's a choice you can depend on to provide you a beautiful smile for years to come.
If you would like more information on dental implants, please contact us or schedule an appointment for a consultation. You can also learn more about this topic by reading the Dear Doctor magazine article "Dental Implants."
By Dental Solutions of Winter Haven
October 08, 2015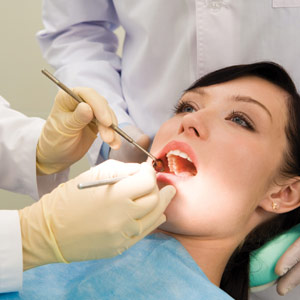 Surgical treatment for periodontal (gum) disease can go a long way toward restoring your mouth to good health; however, it does not change your susceptibility to the disease. That's why we recommend that you come in regularly for periodontal cleanings after your treatment. Here are some frequently asked questions about keeping your mouth healthy after gum disease treatment.
How often do I have to come in for periodontal cleanings?
There's no "one-size-fits-all" answer to that question: It really depends on your individual situation. For example, some individuals may have a more aggressive form of periodontal disease that requires more frequent periodontal maintenance (PM) treatments to maintain control. Others may have greater success controlling the buildup of disease-causing plaque with at-home oral hygiene measures, and therefore need PM less often. However, for people with a history of periodontal disease, getting PM treatments at a three-month interval may be a good starting point.
What happens at a periodontal maintenance appointment?
A thorough cleaning of the crown and root surfaces of the teeth, aimed at removing sticky plaque and hardened dental calculus (tartar), is a big part of PM treatments — but there's much more. You'll also receive a thorough clinical examination (including oral cancer screening), a review of your medical history, and x-rays or other diagnostic tests if needed. The status of any ongoing periodontal disease will be carefully monitored, as will your success at maintaining good oral hygiene. Decisions about further treatment will be based on the results of this examination.
What else can I do to keep gum disease at bay?
Keeping your oral hygiene in top-notch condition — which includes effective brushing and flossing every day — can go a long way toward controlling gum disease.  In addition, you can reduce risk factors by quitting tobacco use and eating a more balanced diet. And since inflammatory conditions like diabetes, arthritis and cardiovascular disease can make periodontal disease worse (and vice versa), keeping these conditions under control will greatly benefit both your oral health and your overall health.
If you have additional questions about maintaining oral health after gum disease treatment, contact us or schedule an appointment.