Posts for: December, 2014
By Dental Solutions of Winter Haven
December 16, 2014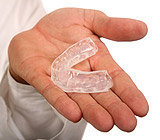 Youth sports can be a positive life experience for your child or teenager. But there's also a risk of injury in many sporting activities, including to the teeth and mouth. An injury to the mouth, especially for a child or young adolescent whose teeth are still developing, can have a significant negative impact on their oral health.
When it comes to teeth or mouth injuries, the best preventive measure is for your child to wear an athletic mouthguard, especially for contact sports like football, hockey or soccer. But be warned: not all mouthguards are alike — and neither is their level of protection.
Mouthguards can be classified into three types. The first is known as "stock," which is the least expensive and offers the least level of protection. They usually are available only in limited sizes (small, medium, large, etc.) and cannot be custom-fitted for the individual. This significantly lowers their protective ability, and thus we do not recommend these to our patients.
The next type is referred to as "boil and bite." These mouthguards are made of a material called thermoplastic, which becomes pliable when heated. When first purchased, the guard is placed in boiling water until soft; the individual can then place them in the mouth and bite down or press the guard into the teeth until it hardens and forms to their palates. Although this type offers a better fit and more protection than stock mouthguards, it isn't the highest level of protection available.
That distinction goes to the last type — a custom mouthguard made by a dentist. Although the most expensive of the three, it offers the best fit and the highest level of protection. A well-made custom mouthguard is tear-resistant, fits comfortably, is easy to clean and doesn't restrict speaking and breathing. We recommend this guard as your best alternative for protecting your child athlete from tooth and mouth damage.
If you would like more information on the use of athletic mouthguards for young athletes, contact us or schedule an appointment for a consultation. You can also learn more about this topic by reading the Dear Doctor magazine article "Mouthguards."
By Dental Solutions of Winter Haven
December 01, 2014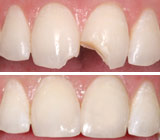 Our smiles are our "calling cards" for first impressions. When our front teeth are missing, chipped or otherwise damaged, it will certainly make an impression — and not a positive one.
The good news is many aesthetic problems with front teeth can be remedied with the use of composite resins. This cost-effective treatment choice not only minimizes a negative appearance, but can actually create a positive smile transformation.
Composite resins are tooth-colored materials made up of two or more polymer substances. We call materials like these biomimetic, meaning something non-living that's fashioned to appear or "mimic" something living. Composite resins are made of substances that aren't teeth, but fashioned to look and function like teeth.
Composite resin restorations are bonded to the outside of the tooth with dental adhesive, with little to no preparation of the enamel surface of the tooth. They're best suited for teeth with minor to moderate damage from decay or trauma, but where the majority of the structure is still viable and intact.
These restorations require skill and an artistic eye to achieve the most life-like result. One of the most important considerations is tooth color. The natural color of your teeth is actually a combination of color from the inner core of the tooth, the dentin, and the outer enamel layer. Much of the color comes from the dentin as it shows through the translucence of the enamel. The intensity and hue also changes along the length of the tooth — there are subtle zones of color that run vertically along the length of the crown (the visible portion of the tooth). Our aim is to replicate this variety of color in the restoration and affix it in such a way that it blends with the natural color of surrounding teeth.
Composite resins aren't the best option for all situations; depending on the tooth's condition and location, a porcelain veneer may be the better choice. After a thorough dental examination, we can make the best recommendation for your situation. If conditions are right, a composite resin restoration could transform your smile and your life.
If you would like more information on front teeth repair options, please contact us or schedule an appointment for a consultation. You can also learn more about this topic by reading the Dear Doctor magazine article "Artistic Repair of Front Teeth With Composite Resin."