Posts for: September, 2014
By Dental Solutions of Winter Haven
September 18, 2014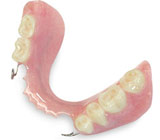 Removable partial dentures (RPDs) are a common replacement option for multiple lost teeth. However, they're not the best long-term option; in fact, one particular type of RPD could be a poor choice if you wish to wear them long-term.
Made primarily of plastic, these RPDs are sometimes referred to as "flippers" because of how the tongue can easily flip them out of the mouth. While some people see them as a permanent replacement for their lost teeth, in reality plastic-based RPDs are a transitional replacement — a stepping stone, if you will, to a permanent solution. They are most useful during healing following a periodontal procedure or during the waiting period after implant surgery.
However, they can pose problems to your long-term oral health if worn permanently. Because of the manner in which they fit to the gums and any remaining teeth, they tend to settle into and compress the gum tissues. If you have gum disease, they force infection deeper into the tissues. They also allow and promote bacterial plaque growth. This in turn may lead to increased incidences of decay and gum disease.
On the other hand, a metal RPD, ideally made of cast vitallium or gold alloy, fits more snugly and accurately in the mouth. They still can cause increased plaque and food retention, but if the wearer also adheres to sound daily oral hygiene practices, regular dental checkups and diligent care of the RPD, they can be used successfully for many years.
Although a metal RPD costs more than its plastic counterpart, they cost less than more permanent teeth replacements. They are lighter in weight than plastic RPDs and fit more securely to deflect the forces generated by biting.
In considering your options for replacing lost teeth, you should not view plastic transitional RPDs as a permanent solution, but rather as a temporary one until you can obtain a more permanent solution. And although not the most optimal choice, the metal RPD could be considered a more permanent cost-effective solution.
If you would like more information on your options regarding removable partial dentures, please contact us or schedule an appointment for a consultation. You can also learn more about this topic by reading the Dear Doctor magazine article "Removable Partial Dentures."
By Dental Solutions of Winter Haven
September 02, 2014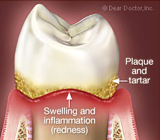 If you notice your gums bleeding when you brush your teeth, you're not alone — it's estimated that as many as 90% of the population have at some time had the same experience. That doesn't mean it's normal, though; in fact, unless you're pregnant, have a systemic condition like diabetes or take blood-thinning medication, it's more likely a sign that an infection has caused your gums to become inflamed and tender. The infection arises from a bacterial biofilm that's been allowed to accumulate on tooth surfaces due to inadequate brushing and flossing.
If not treated, the early form of this infection known as gingivitis can develop into a more serious form of gum disease in which the various tissues that help attach teeth to the jaw become infected and eventually detach. As it progresses, detachment forms voids known as periodontal pocketing between the teeth and gum tissues. The end result is receding gum tissue, bone loss and eventually tooth loss.
If you begin to notice your gums bleeding when you brush, you should make an appointment with us for an examination — and the sooner the better. During the exam we'll physically probe the spaces between your teeth and gum tissues with a periodontal probe, a thin instrument with a blunt end marked in millimeters. As we probe we'll determine the quality of the gum tissue — whether the probe inserts easily (a sign the tissues are inflamed) or gives resistance (a sign of healthy tissue). We'll also determine the degree of detachment by measuring the depth of the insertion with the millimeter scale on the probe.
The presence of bleeding during this examination is a strong indication of periodontal disease. Taking this with other signs we encounter during the exam (including the degree of pus formation in any discovered pockets) we can then more accurately determine the existence and level of advancement of the disease.
While gum disease is highly treatable, the best results occur when the condition is discovered early, before the infection severely damages tissues around the teeth. Being on the lookout for bleeding and gum tenderness and responding to it quickly can significantly simplify the necessary periodontal treatment.
If you would like more information on bleeding gums and other symptoms of gum disease, please contact us or schedule an appointment for a consultation. You can also learn more about this topic by reading the Dear Doctor magazine article "Understanding Gum (Periodontal) Disease."