Posts for: August, 2014
By Dental Solutions of Winter Haven
August 15, 2014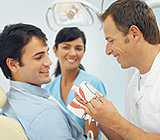 One of the many reasons for dental implant popularity is their reliability — studies have shown 95% of implants still function well after ten years. Still, on rare occasions an implant will fail. We can minimize this risk by taking precautions before, during and after installation.
Long-term success begins with careful planning before surgery. We thoroughly examine your teeth and jaws, using x-rays or CT scanning to map out the exact location of nerves, sinus cavities and other anatomical structures. Along with your medical history, this data will help us develop a precise guide to use during implant surgery.
We'll also assess bone quality at the intended implant site. The implant needs an adequate amount of bone for support — without it the implant will not be able to withstand the biting force of normal chewing. It may be possible in some cases to use bone grafting or similar techniques to stimulate growth at the site, but sometimes other restoration options may need to be considered.
The surgery can also impact future reliability. By precisely following the surgical guide developed during the planning stage, the oral surgeon can increase the chances of success. Still, there may be an unseen variable in play — a pre-existing or post-operative infection, for example, that interferes with the integration of the implant with the bone. By carefully monitoring the healing process, we can detect if this has taken place; if so, the implant is removed, the area cleansed and the implant (or a wider implant) re-installed.
Even if all goes well with the implantation, there's still a chance of future failure due to gum disease. Caused mainly by bacterial plaque, gum disease infects and inflames the supporting tissues around the teeth; in the case of implants it could eventually infect and weaken the surrounding bone, a condition known as peri-implantitis. This calls for aggressive treatment, including plaque and infected tissue removal, and possible surgery to repair the bone's attachment to the implant. Without treatment, the implant could eventually detach from the weakened bone.
Maintaining your implants with good oral hygiene and regular dental checkups is the best insurance for long-term reliability. Taking care of them as you would natural teeth will help ensure a long, happy life for your "third set" of teeth.
If you would like more information on dental implants, please contact us or schedule an appointment for a consultation. You can also learn more about this topic by reading the Dear Doctor magazine article "Dental Implants."
By Dental Solutions of Winter Haven
August 01, 2014
Nothing says confidence like a bright, beautiful smile. But problems with your teeth's appearance — discoloration, abnormal shapes, or gaps — may be giving you reasons not to smile. If so, you may be a candidate for porcelain veneers.
A veneer is a thin covering of porcelain or other dental material permanently attached to the face of a tooth to improve its appearance. Veneers help resolve a variety of aesthetic issues: their life-like color can brighten dull, stained teeth; they can "lengthen" shortened teeth caused by wear or normalize congenitally misshapen teeth; they're also helpful in reducing small gaps or used in conjunction with orthodontics for more serious misalignments.
The first step to a better smile with veneers is to assess your teeth's current condition and develop a treatment plan. Your input is extremely important at this stage — what changes you believe would improve your smile. We would also offer valuable insight, based on our knowledge and experience, into what is realistically possible and aesthetically appealing regarding porcelain veneers.
Once you have decided to go forward, the next step is to prepare the teeth for attaching the veneers. Depending on their size and location, this preparation can range from no tooth structure removal to a relatively small amount of structure. If the latter is needed, we remove only what's necessary to achieve the aesthetic result since structural reduction isn't reversible.
After preparing an impression of your teeth, we would send it and other instructions to a dental technician to create the permanent veneers. In the meantime, we'll install a temporary set for you to wear while the permanent set is under construction.
Once we attach the permanent veneers, they will adhere so securely a drill or laser would be needed to remove them. We achieve this attachment by creating microscopic pores on the face of the teeth and the inside of the veneer with a mild acid solution. The bonding cement seeps into these pores and creates a strong bond that virtually unites the tooth and veneer into one.
Although your new veneers are made to last, you'll need to maintain them like your other teeth, with a little added caution when biting and chewing. All in all, though, you'll be able to smile again with confidence — for many years to come.
If you would like more information on porcelain veneers, please contact us or schedule an appointment for a consultation. You can also learn more about this topic by reading the Dear Doctor magazine article "Porcelain Veneers."