Posts for: July, 2014
By Dental Solutions of Winter Haven
July 17, 2014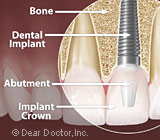 Dental implantation is the premier option for tooth replacement available today. While acquiring dental implants does involve a surgical procedure, don't let that deter you — with proper preparation the procedure is relatively minor and routine.
Implants are root replacements inserted directly into the jawbone to which a life-like, artificial crown is secured (strategically placed implants can also support fixed bridges or removable dentures). They're typically made of titanium, which is osseophilic or "bone-loving": bone will grow and adhere to the implant over a few weeks time.
Pre-planning can help minimize discomfort during and after the implantation procedure. We first conduct a radiographic examination of the site with x-rays or CT imaging; this enables us to assess the site's bone quality and quantity. We can also create a surgical guide from the imaging to pinpoint the precise location for an implant to ensure a successful outcome.
Before beginning the procedure, we numb the area with a local anesthesia (we can also administer a sedative or other relaxation medication if you're experiencing mild apprehension). The procedure often begins by creating a flap opening in the gum tissue with a few small incisions to access the bone. Using the surgical guide, we then begin a drilling sequence into the bone that progressively increases the size of the hole until it precisely matches the size and shape of the implant.
When the site preparation is complete, we remove the implant from its sterile packaging (which minimizes the chance of infection) and immediately insert it into the prepared site. We verify proper positioning with more x-rays and then suture the flap opening of the gum tissue back into place.
Thanks to both the pre-planning and care taken during surgery, you should only experience minimal discomfort. While narcotic pain relievers like codeine or hydrocodone may be prescribed, most often non-steroidal anti-inflammatory drugs like aspirin or ibuprofen are all that's needed. We may also prescribe an anti-bacterial mouthrinse (with chlorhexidine) to assist healing.
In just a few weeks your custom-made restorations will be attached to the implants. It's the completion of a long but not difficult journey; the resulting smile transformation, though, can last for many years to come.
If you would like more information on dental implants, please contact us or schedule an appointment for a consultation. You can also learn more about this topic by reading the Dear Doctor magazine article "Dental Implant Surgery."
By Dental Solutions of Winter Haven
July 02, 2014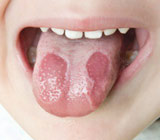 If you occasionally notice mildly irritating red patches on the top surface of your tongue, you may be one of the three percent or less of the population with a condition called benign migratory glossitis. It's also known as "geographic tongue" because the red patches often resemble land masses on a world map.
While the symptoms may be discomforting, geographic tongue isn't a cause for serious concern. The red patches are caused by the temporary loss of papillae, tiny bumps that grow on the surface of the tongue, which may appear and disappear repeatedly over a short time period (ranging from hours to days). As its medical name implies, this form of glossitis isn't cancerous or contagious; it's referred to as "migratory" because the red patches often appear to move around while changing size and shape. An outbreak can cause a mild burning or stinging sensation, and some people also encounter numbness in the patchy areas.
While there isn't a firm consensus as to geographic tongue's exact cause, there do appear to be triggers for it including stress, hormonal changes and mineral or vitamin deficiencies (particularly zinc and Vitamin B). There also seems to be a connection with psoriasis, a skin ailment characterized by redness and scaling — a number of people will experience both conditions. Geographic tongue appears more often in middle-aged, non-smoking adults, particularly women during hormonal fluctuations (as during pregnancy or ovulation). Individuals with deep grooves on their tongues called fissures are more susceptible as well.
There's no cure for the condition, but there are some treatments that can help alleviate any accompanying irritation. Depending on what we find during examination, we may prescribe anesthetic mouthrinses, antihistamines, steroid ointments or other treatments to help manage discomfort. It may also be helpful to limit your intake of foods during outbreaks that may increase irritation, including high acidic foods like tomatoes or citrus fruit, as well as eggplant, mint, spicy foods and alcohol (including certain mouthwashes).
If you experience these occasional patchy outbreaks on your tongue, please schedule a visit with us for a full examination. We may be able to reduce your discomfort and certainly put your mind at ease.
If you would like more information on geographic tongue, please contact us or schedule an appointment for a consultation. You can also learn more about this topic by reading the Dear Doctor magazine article "Geographic Tongue."