Posts for: April, 2014
By Dental Solutions of Winter Haven
April 24, 2014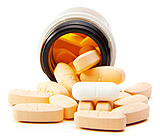 If you've come in to our office lately, chances are you've been asked to fill out a form or answer a question about what medications — both prescription and non-prescription — you are currently using. Of course, if you're taking a blood-pressure drug or a pill to help control your cholesterol, you wouldn't hesitate to put it on the list. But how about those vitamins and herbal supplements you take — do you really have to list those too?
The answer is a definite yes — and some of the reasons why may surprise you. Did you know that many "natural" dietary supplements can have potentially serious interactions with other drugs you may be prescribed? For example, herbal preparations made from the plant called St. John's Wort are often used by people seeking relief from depression or anxiety. However, the active chemical compounds in this herb can interfere with some anesthetic drugs, and may make it harder for you to recover from the effects of anesthesia. Ginkgo biloba and some other commonly used herbs have a similar effect.
Even some vitamins have the potential to cause negative interactions. Large doses of Vitamin E, for example, can increase the risk of internal bleeding in people who are taking blood thinners or non-steroidal anti-inflammatory medications (NSAIDS), such as aspirin and ibuprofen. These medications are commonly prescribed for pain relief after minor dental procedures.
Does that mean you have to stop taking vitamins and herbal supplements if you may need a dental or medical procedure? Not necessarily. Vitamins are indeed vital to your health, and a deficiency in one or more of these important substances can result in serious diseases — like scurvy, which formerly plagued sailors lacking access to fresh fruits and vegetables. If you've been told you have a vitamin deficiency, taking vitamin pills is a must.
But the best way to get the proper amount of vitamins is through a healthy, well-balanced diet rich in fruits, vegetables, and whole grains. Not only does consuming these foods give you the most "natural" source of vitamins — it also provides you with other essential micronutrients and fiber, and it is low in fat and cholesterol.
No nutritional supplement is a substitute for a healthy diet — and that's something we'd like everyone to remember. We'd also like to remind you to tell us about ALL the medications and supplements you're taking, especially if you're going to have a procedure. Giving us complete information will help ensure that you'll remain as healthy and safe as possible.
If you have questions about dietary supplements, nutrition and your teeth, please call our office to arrange a consultation. You can learn more in the Dear Doctor magazine article "Vitamins & Dietary Supplements: What Every Consumer Should Know."
By Dental Solutions of Winter Haven
April 09, 2014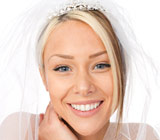 Some people are planners, and others just go with the flow. Some spend all winter in the gym, and others try and lose ten pounds right before beach season. Some have every detail of their wedding day planned out months in advance, and others... don't.
No matter which kind of person you are, you'll want to look your best for your wedding day. And that includes sporting a bright, healthy-looking smile. Depending how much time you have beforehand, there's a range of dental treatments that can help you look and feel great — not just that day, but every day. Here's a rundown of what you can do in the time remaining before your big day.
Time Left: Up to two years. If you've planned this far in advance, congratulations! You probably have time for almost any needed dental treatment — including orthodontics, which can straighten misaligned teeth and correct a bad bite. But even if you don't have quite so much time, don't despair: Clear aligners and tooth-colored or tongue-side braces, if recommended, can make orthodontic appliances nearly invisible.
Time Left: Six months to one year. Many dental treatments, like periodontal plastic surgery or tooth implants, can achieve remarkable results in this time. Periodontal surgery can give you a less "gummy" smile and greatly improve the aesthetics of your teeth. Tooth implants are modern dentistry's best option for replacing missing teeth. Natural-looking implants have a success rate of 95%, and can last a lifetime.
Time left: Three or four months. There's plenty you can do! If the roots are intact, a crown can be placed on a damaged tooth to restore its appearance and function. Or, missing teeth can be replaced via bridgework, which supports a false tooth from abutments on either side. Stained or discolored teeth can also be dramatically lightened with veneers, where a porcelain shell replaces the tooth's outermost layer of enamel. Tooth implants are still a possibility, under the right circumstances. We can evaluate your individual situation and come up with the best option to replace missing teeth.
Time left: Six weeks or so. You still have time for some basic, yet effective, treatments. Small chips or discolored fillings can be restored with tooth-colored materials that securely bond to the teeth themselves. You can also brighten your teeth by several shades using the techniques of bleaching. In-office whitening treatments are the fastest, but take-home kits, used under our supervision, offer similar results in a longer time.
Have even less time? At the very least, come in for a thorough cleaning right before the date! This will help remove many surface stains and freshen up your smile. Be sure to call in advance so that you're able to get an appointment. Then, smile for the camera!
If you would like more information about a wedding-day smile makeover, please contact us or schedule an appointment to discuss your treatment options. You can learn more in the Dear Doctor magazine article "Wedding Day Smiles."