Posts for: March, 2014
By Dental Solutions of Winter Haven
March 25, 2014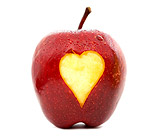 Your general and oral health go hand in hand — whatever is going on with the rest of your body can also affect your teeth, gums and other mouth tissues. That's why it's essential that you eat a diet with the right balance of healthy foods, while cutting back on unhealthy ones that contribute to tooth decay and other health issues.
When we refer to healthy foods, we mean foods with high nutritional value. These kinds of foods provide nutrients (carbohydrates, proteins, fats, vitamins, minerals and water) that build strong bodies (including teeth and gums), fight disease and help our bodies maintain good function on the cellular level.
A healthy diet has three components: variety, eating several different kinds of foods with a wide range of nutrients; balance, eating a proper portion from different food groups; and moderation, eating portions that are enough to meet energy needs and cellular health while not overindulging. It's important to remember that excess carbohydrates, proteins and fats are stored as body fat, which has an impact on a healthy weight.
In addition, you should also bear in mind how certain foods can have a direct effect on your teeth and gums. Foods with added sugars (such as refined sugar or corn syrup) and starches are a rich food source for decay-causing bacteria; naturally occurring sugars found in fresh fruits, vegetables and dairy products are not as great a threat. In this regard, the best approach is to decrease the amount of processed foods in your diet, while increasing your intake of whole foods.
You can also help deter tooth decay with certain foods. Eating cheese after a sweet snack helps prevent an increase in the mouth's acidic level, a contributing factor in tooth decay. Eating plant foods that require chewing stimulates saliva, which also helps prevent a rise in the acidic level.
Proper nutrition is a key component in maintaining overall good health. It's just as important for keeping your teeth and gums healthy and functioning.
If you would like more information on nutrition and the part it plays with your oral health, please contact us or schedule an appointment for a consultation. You can also learn more about this topic by reading the Dear Doctor magazine article "Nutrition: Its Role in General and Oral Health."
By Dental Solutions of Winter Haven
March 10, 2014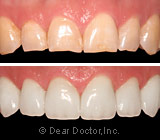 Smiling feels great and makes others feel good as well. But if you are self-conscious about exposing teeth that are showing imperfections or excessive wear, you may not be smiling as broadly as you should be. Fortunately, there are ways to correct the esthetic issues that might be holding you back. One involves covering the natural tooth partly or completely with a natural-looking but flawless "facade."
Perhaps you've heard about dental veneers and crowns? Both can achieve similar, eye-pleasing results by changing the shape and color of your teeth and even helping to compensate for uneven spacing or alignment. And both are custom-designed for your teeth. So what's the difference and which is right for you?
One distinguishing feature is the amount of tooth each covers. A veneer is a wafer-thin layer of dental porcelain that bonds to the front of your tooth. A crown, also fashioned from dental porcelain, fits over and covers the entire existing tooth, like a hood, right down to the gum. With either approach, to ensure the best, most natural fit, some of the natural tooth structure must be reduced by a minimal amount. In the case of veneers, up to 1 mm of tooth enamel — about the thinness of a fingernail — is removed. Crowns are generally thicker than veneers, so in their case the removal of at least 2 mm of tooth is needed.
Another difference between veneers and crowns is the situations in which one might be more suitable than the other to achieve the desired results. For example, a crown may be necessary when too much tooth structure has been lost to decay or other problems, or for use on back teeth that have to withstand greater impact from biting and chewing. A dental professional can make a recommendation based on your goals, the condition of the tooth or teeth in question, and other factors.
Either way, both veneers and crowns are an excellent solution for a range of esthetic concerns — from poor tooth color/staining, chips and cracks, and excessive wear at the bottom of teeth (from bruxism, a term for teeth grinding) to making small teeth look larger, closing minor gaps between teeth, and making slight corrections in alignment.
If you would like more information about veneers and crowns, please contact us or schedule an appointment for a consultation. You can also learn more about this topic by reading the Dear Doctor magazine articles "Porcelain Crowns & Veneers" and "Porcelain Veneers: Strength & Beauty As Never Before."