Posts for: January, 2014
By Dental Solutions of Winter Haven
January 29, 2014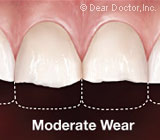 As life spans have increased over the last century so has the importance of maintaining good oral health. Teeth are such a critical component in good nutrition and disease protection, it's important we do all we can to preserve them for a lifetime.
Through advances in dentistry and oral hygiene, two of teeth's greatest enemies, dental caries (tooth decay) and periodontal (gum) disease, are not only quite treatable but even preventable. The fact remains, though, that like the rest of our body, our teeth are still subject to aging. The irreplaceable outer layer known as enamel is especially susceptible to wear over time.
The normal wearing down of teeth occurs because of occlusal (bite) activity. As our upper and lower teeth interact with each other through constant biting and chewing activities, some of the enamel surface naturally wears away as we age. Our biggest concern shouldn't be the wear itself but the rate of wear — whether it's exceeded the normal range.
Habits that increase the frequency and rate of biting forces are the most common reason for excessive enamel erosion. Such habits include excessive tooth-to-tooth contact as when we clench or grind our teeth and tooth-to-foreign object, the chronic habit of holding hard objects (nails, pencils, pins, etc.) tightly between the teeth. Many of these habits are a response to psychological stress that can even carry over into our sleep.
The key is to minimize these effects on the normal process of wear, and to protect teeth for as long as possible. How to accomplish that goal depends on your individual circumstance: treatments could include such things as orthodontics to correct bite problems that contribute to abnormal wear, considering restoring worn teeth with new crowns or fillings, or reducing grinding or clenching with nocturnal mouth guards or some form of stress-relief therapy.
In cases where abnormal wear has passed the point where it doesn't make sense to repair your natural teeth, all is not lost — restorations such as dental implants can help restore lost function and inhibit further erosion. Advances over the last thirty years in restoration techniques can, in effect, extend a new lease on life for your teeth. What's more, we can also restore form — to bring back that smile from your younger years.
If you would like more information on tooth erosion and aging, please contact us or schedule an appointment for a consultation. You can also learn more about this topic by reading the Dear Doctor magazine article "How and Why Teeth Wear."
By Dental Solutions of Winter Haven
January 14, 2014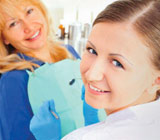 There's no doubt dental implants are an effective choice for restoring both the form and function of missing teeth. But although they aren't susceptible to tooth decay as with natural teeth, the bone and gum tissues that surround them are. Implants, therefore, require the same cleaning and maintenance as natural teeth.
A dental implant is actually a root replacement, a titanium post surgically imbedded in the jawbone. Because titanium is osteophilic ("bone-loving"), bone will naturally grow around it, making the implant more secure over time. Atop the implant is an abutment to which an artificial crown, the visible portion of the implant, is attached. The abutment is surrounded and supported by connective fibers within the gum tissue that hold the tissue against the implant surface.
This attachment differs significantly from natural teeth's attachment to the jawbone, which attach to a tooth's root through the periodontal ligament. The tiny fibers of the ligament hold teeth in place; its elasticity allows for tiny adjustments in a tooth's position in response to changes in other teeth and bone. The ligament is also rich in blood supply that enriches the area with nutrients and provides resources to fight and resist infection.
An implant doesn't have this same degree of defense against infection. Without proper hygiene, a layer of bacterial plaque known as biofilm can develop on the crown surface of both natural teeth and restorations. In addition, an infectious condition specific to implants known as peri-implantitis can set in the gum tissues surrounding the implant. This can lead to bone loss (sometimes very rapid) and eventual loss of the implant.
Although your daily hygiene won't require special toothbrushes or other devices for implant cleaning, your professional cleanings will. The metal instruments (known as curettes) used to clean natural teeth could damage implant surfaces. The hygienist will use devices made of plastic or resin rather than metal, and nylon or plastic sheaths or tips on ultrasonic equipment that are specially designed for implant cleaning.
While maintaining dental implants requires diligence on both your part and ours, implants remain an effective, long-term choice for dental restoration. In fact, some studies indicate upwards of 95% success rate. Proper hygiene will greatly increase your chances for many years of service from your implants.
If you would like more information on properly maintaining your dental implants, please contact us or schedule an appointment for a consultation. You can also learn more about this topic by reading the Dear Doctor magazine article "Dental Implant Maintenance."