Posts for: August, 2013
By Dental Solutions of Winter Haven
August 29, 2013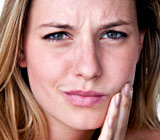 You have probably heard a lot of people talk about TMJ disorders, but do you know what it all means? How do you know if you are suffering from a TMJ disorder?
Below are answers to some common questions about TMJ disorders.
What is a TMJ disorder?
First, we should explain that TMJ actually refers to the Temporomandibular Joint, which is the formal name for your jaw joint(s). TMD stands for Temporomandibular Disorders, which is the correct name for the muscle and/or joint symptoms that commonly arise when there is TMJ pain and dysfunction. You may have heard people refer to the actual disorder as TMJ, but this name is incorrect.
When I experience TMJ pain, what exactly is happening?
Let's first understand all of the parts that play a role in your pain. The temporomandibular joints connect your mandible (lower jaw) to your skull on both the left and right sides, which makes the lower jaw the only bone in the body with completely symmetrical joints at both ends. There is a ball-and-socket relationship between your jaw and your skull on both sides, but the unique part is the presence of a cushioning disk between the two surfaces in each joint. Each TMJ has a disk between the ball (condyle) and socket (fossa), and this sometimes ends up being an especially important area when trouble arises.
So, how do I know if I have TMD?
You can never be absolutely sure, but here are some symptoms you should be sure to share with us during your examination:
Clicking. You may experience a clicking sound in the jaw, usually due to a shift in the position of the disk inside the joint. However, if you do not have pain or limited jaw function, this symptom may be insignificant.
Muscle Pain. The next symptom is jaw muscle pain, usually in the cheeks or temples. If the muscle is sore or stiff in the morning, this pain is usually related to clenching or grinding in your sleep. However, there are more complex muscle pains that can spread to your head and neck.
TMJ Pain. This third symptom refers to pain actually inside one or both of your jaw joints, technically described as arthritis of the TMJ.
If diagnosed, what can I expect from treatment?
We will first need to assess the damage to your TMJ, and from there we will recommend a course of treatment to relieve your pain. Treatment may range from hot or cold compresses and anti-inflammatory medications to physical therapy or a bite guard. We may also advise you to do jaw exercises at home. In general, we will do our best to treat your issue without orthodontic treatment or surgery.
If you would like more information about TMD, please contact us or schedule an appointment for a consultation. You can also learn more by reading the Dear Doctor magazine article "Seeking Relief from TMD."
By Dental Solutions of Winter Haven
August 14, 2013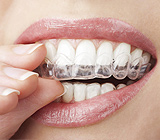 It used to be that the only option for straightening a teenager's teeth involved lots of shiny hardware. Besides the esthetic downside, traditional orthodontic devices (braces) can interfere with the enjoyment of certain favorite foods, irritate the inside of the mouth, trap food particles (potentially another esthetic embarrassment and sustenance for cavity-causing bacteria), and complicate dental hygiene routines.
These aren't causes for concern with clear orthodontic aligners, however, which consist of a series of transparent plastic, removable trays that fit over the teeth and gradually move them into better positioning. About every two weeks, the teen proceeds to the next aligner in the progression (or set of aligners if treatment involves both the upper and lower teeth) until the improved alignment goal is reached. The trays are meant to be worn 22 hours a day, but they can be removed for eating, brushing and flossing, and, on a limited basis, special occasions.
Thanks to relatively recent developments in the design of clear aligner systems, teens who previously were not considered good candidates for this modality may now have this option available to them. This includes:
Teens whose second molars (the last to come in except for wisdom teeth) haven't fully emerged. Aligners now come with "eruption tabs" that serve as place-holders for teeth that are still growing into position.
Teens with severely rotated teeth requiring complicated movement. Tooth-colored attachments called "buttons" can be temporarily bonded onto teeth to provide additional leverage, and elastics (rubber bands) can also be used to promote movement.
Compliance is always a concern with any orthodontic treatment — whether it be gum chewing with traditional braces or wearing clear aligners for the requisite period of time each day. Aligners now come with built-in colored "compliance indicators" that fade with use over time. This makes it possible for orthodontists, dentists, parents and teens alike to monitor both compliance and treatment progress.
If you would like more information about clear orthodontic aligners please contact us or schedule an appointment for a consultation. You can also learn more about this topic by reading the Dear Doctor magazine article "Clear Aligners for Teens."