Posts for: January, 2013
By Dental Solutions of Winter Haven
January 15, 2013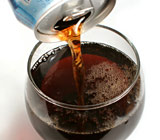 If you like soft drinks and carbonated colas, beware. Acids in these drinks may be dissolving the minerals in your teeth — a process called chemical erosion. And don't think that natural fruit juices or sports and high energy drinks are any better than sodas. They also contain acids that dissolve the surface enamel of your teeth. Once your enamel is lost, it is gone forever. It cannot naturally recover.
Sadly, teeth in children and teenagers — an age group most likely to drink large quantities of soda and juices — may be more easily eroded by acids. These youngsters have not had long-term exposure to fluorides which harden tooth enamel and protects them from acid erosion.
The Difference between Erosion and Decay
Chemical erosion is not the same as tooth decay (cavities). In chemical erosion, acids in your mouth react directly with minerals in the outer enamel of your teeth. In the case of tooth decay, bacteria in dental plaque (a bacterial film that forms on your teeth) utilize the sugars in the drinks and produce acids that attack your teeth.
After Acidic Exposure, Wait 30 Minutes to an Hour before Brushing
You may think that the solution to chemical erosion is to brush the acidic solution from your teeth as soon after drinking them as possible. But tooth brushing immediately after can actually accelerate chemical erosion and make it worse. After they are bathed in an acidic solution, minerals in the tooth surface become partially dissolved. Brushing at this time may brush away the affected layer. If you wait a half hour to an hour, your saliva will have time to neutralize the acids and harden the tooth surface by adding minerals back into it.
Drinks Less Likely to Cause Dental Erosion
Instead of drinking colas and sports drinks, stick to water and/or milk, which have the added benefit of supplying calcium to help add minerals back to the tooth surface.
If you must sip on juices or soft drinks, try to do so only at mealtimes. This is preferable to drinking them all day long, which leaves your teeth constantly bathed in an acid solution. Avoid swishing the drinks in your mouth, and sip them with a straw to reduce contact between acidic drinks and your teeth.
Contact us today to schedule an appointment to discuss your questions about acid erosion of teeth. You can also learn more by reading the Dear Doctor magazine article "Dental Erosion."
By Dental Solutions of Winter Haven
January 05, 2013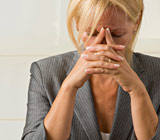 If you fear a visit to the dentist, you are not alone. Studies have shown that up to 75% of people surveyed have some fear of dental visits, and 10 to 15% fear the dentist so much that they avoid any dental treatment. This can have serious repercussions, leading to toothaches, infections, and loss of teeth. Poor oral health can even negatively affect your general state of health.
Here's the good news. Even people who are the most afraid of the dentist can learn to reduce their fear and feel calm and safe during a dental visit.
Dental fears develop when people have bad dental experiences. For many, the problem is a sense of loss of control. Sometimes, fears are based on stories people have heard or even movies they have seen.
The feeling of being afraid reinforces your fear. If you experience the rapid heartbeat, sweaty palms, tensed muscles, and other symptoms of fear while in the dentist chair, you are likely to remember these unpleasant feelings afterward and become even more fearful. In order to reverse this process, you need to begin to associate dental visits with good experiences and a sense of control. Here's how we can help you do this:
Know that you are not alone and we are here to help you.
Talk to us about your fears. We are sure to listen and not be judgmental. If you don't talk about it, you can't get over it.
We will start by doing things that cause only mild or no anxiety. We want each visit to be a good experience, so you are able to leave our office with a feeling that it was okay, and you can do it again.
Our goal is for you to overcome your fear. We will make this a priority and that priority is as important as "fixing your teeth." We will be happy to talk about the time and fees associated with your treatment so that you can overcome your fear and gain a sense of control of the situation.
It took a while for your fears to develop, so you should realize that it will also take a while to get over them. We will spend as much time as you need to get over your fears and will not rush you into doing anything for which you are not ready.
Contact us today to schedule an appointment to discuss your questions about any fears you may have. You can also learn more by reading the Dear Doctor magazine article "Overcoming Dental Fear & Anxiety."