Posts for: December, 2012
By Dental Solutions of Winter Haven
December 19, 2012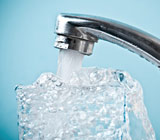 The CDC (Centers for Disease Control and Prevention) calls fluoridation of drinking water one of the ten most important public health measures of the 20th century, along with such measures as vaccination and motor-vehicle safety.
A fluoride concentration of about one milligram per liter (1 mg/L), or 1 part per million (1ppm), in the water supply is associated with substantially fewer cavities. This concentration of fluoride (equivalent to a grain of salt in a gallon of water) has been found to have no negative health effects.
The connection between fluoride and oral health was confirmed in the first half of the 20th century, and by 1955 the first clinically proven fluoride toothpaste was launched. Fluoride-containing toothpastes are common today, along with other fluoride-containing products.
Protective Effects of Fluoride
Ongoing studies have shown that fluoride has both a systemic (through the body) effect and a local effect at the tooth surfaces. Tooth decay takes place as part of a kind of active war between de-mineralization and re-mineralization, in which acids produced by bacteria in plaque (a biofilm in your mouth) soften and dissolve the minerals (de-mineralization) in the tooth's surface. At the same time, the saliva bathing the tooth acts to re-harden the tooth's surface by adding minerals back (re-mineralization). If fluoride is present in the biofilm and in the saliva, it protects against de-mineralization.
The fluoride you drink in your water is deposited in your bones. Bone is an active living substance that is constantly broken down and rebuilt as a normal body process. As this happens the fluoride is released into the blood, from which it can enter the saliva and act on the tooth surface. The fluoride in toothpastes and products like rinses is delivered directly to the tooth surface. Fluorides can also be eaten in foods with high fluoride content such as teas, dry infant cereals and processed chicken, fish and seafood products.
Problems with Over-use
Eating or swallowing too much fluoride can contribute to a discoloration of teeth called dental fluorosis, which varies in appearance from small white striations to stained pitting and severe brown mottling of the enamel. To avoid this effect, monitor children's tooth brushing to make sure they use only a small amount of fluoride toothpaste and do not swallow it.
Adding fluoride to water has been controversial because some people believe that it may cause other harmful effects. However, most health experts believe that fluoridated water carries no significant health risks and significantly contributes to public health by preventing tooth decay.
Contact us today to schedule an appointment to discuss your questions about fluoride. You can also learn more by reading the Dear Doctor magazine article "Fluoride & Fluoridation in Dentistry."
By Dental Solutions of Winter Haven
December 04, 2012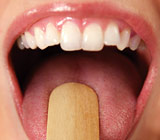 If you have ever had halitosis (bad breath), you know it can cause you to feel self-conscious and embarrassed. And while the odor is typically a primary concern, determining what is causing it is a task we can assist you with resolving. This is especially true when you experience bad breath outside of those times when you've just consumed pungent foods and drinks such as coffee, garlic or raw onions. For example, it is quite a different scenario to have family members, friends, co-workers or even total strangers consistently complaining or using body language to denote your bad breath. If the later best describes your situation — and be honest with yourself — then you need a thorough dental exam to discover the ultimate cause (or causes) of your halitosis. This is especially important because so many people are unaware that there can be numerous oral and/or general health concerns triggering their bad breath.
Most unpleasant mouth odors arise from the more than 600 types of bacteria found in the average mouth, with several dozens of these bacteria being the primary culprits for producing foul odors. And while food particles left between teeth can be key contributors to bad breath, the tongue or more specifically, the back of the tongue, is the most common location. Dry mouth is another cause for bad breath, as evident by the dreaded morning breath we all experience from mouth breathing as we sleep. Bad breath is also caused by certain medical conditions such as liver disease, lung infections, diabetes, kidney infections or failure and cancer.
The good news is that we can work with you to develop an effective treatment for your bad breath. And if necessary, we can work with your physician on a total treatment plan should your condition be due to health conditions outside your mouth. However, if your bad breath originates in your mouth, we may recommend any or all of the following to return your mouth to optimal oral health:
Oral hygiene instruction to learn the proper ways to brush, floss, scrape your tongue and use mouthwashes
Denture hygiene instruction for proper cleaning and maintenance of both full and partial dentures and bridgework
Periodontal (gum) therapy that includes professionally cleaning your teeth (scaling), smoothing your teeth's root surfaces (root planning) and possible antibiotic therapy
Removal of tooth decay where large, open cavities (caries) are present
Repair of broken fillings
Removal of wisdom teeth (third molars) with gum flaps
Treatment of yeast infections (candidasis)
To learn more about the causes and treatments for halitosis, read the Dear Doctor article, "Bad Breath — More Than Just Embarrassing."
Ready To Take The Next Step?
If you want to address your own concerns with bad breath, contact us today to schedule a consultation for an examination and treatment plan. You will find yourself smiling and laughing more once you are confident you have a clean, healthy mouth.