Posts for: July, 2012
By Dental Solutions of Winter Haven
July 16, 2012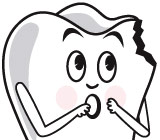 Nearly every parent and caregiver has experienced that almost instantaneous sick feeling when they see that their child has been injured, especially when it is an injury to the mouth and teeth. For some, it is just a bloody lip; however, if the accident chipped a tooth, then you may have a completely different situation on your hands. If the nerve of the tooth has not been damaged, you needn't worry too much — a composite (plastic) tooth-colored restoration that is actually bonded to the tooth is an ideal material for repairing most broken or chipped teeth. See us as soon as possible to assess the extent of injury, so that proper and appropriate action can be taken.
An additional reason why bonding with composite resin may be the ideal choice for repairing a child's chipped tooth is that it can be custom created in virtually any shade so that it perfectly matches the damaged tooth and the surrounding teeth. It is also far less expensive than a crown, an important factor to consider when repairing a primary (baby) tooth that will eventually fall out to make room for a permanent tooth. If the injury is to a permanent tooth, a composite resin still may be ideal to use as a restoration until your child or teenager has stopped growing or playing contact sports. This is because your teenager may be too young for a more permanent restoration such as a crown or porcelain veneer.
An important, proactive step you can take to be prepared for the next time your child has a dental injury is to download Dear Doctor's Field-side Pocket Guide for Dental Injuries. This handy, quick reference guide is a must have for athletes, parents, caregivers, teachers, coaches or anyone who is often in an environment where a mouth injury is likely to occur. Knowing what to do and how quickly you must respond can make the critical difference between saving and losing a tooth.
By Dental Solutions of Winter Haven
July 01, 2012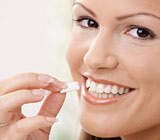 Can chewing gum prevent cavities? Yes! It can if the gum is sweetened with xylitol.
What is xylitol?
Xylitol is a type of "sugar alcohol," similar to sorbitol and mannitol, sugar replacements that are used in many low calorie foods. Xylitol occurs naturally in many fruits and vegetables and is obtained from the bark of birch trees, coconut shells and cottonseed hulls. It looks and tastes like sugar and is a diabetic-safe, low-calorie carbohydrate.
How does xylitol stop cavity formation?
Decay starts when certain bacteria break down sucrose (regular table sugar) and produce acids that dissolve the minerals in the enamel, the outer protective layer of your teeth. When the decay-causing bacteria try to consume xylitol, they are unable to break it down, and instead they begin to starve.
A normal mouth contains a large population of bacteria, and it is better for your teeth to have more "good" bacteria of the kind that do not cause cavities. Xylitol also stops your saliva from becoming acidic, so your mouth becomes a better environment for the "good" bacteria.
Chewing xylitol gum also increases your flow of saliva. Saliva contains calcium and fluoride and helps give these minerals back to your teeth (re-mineralization), undoing some of the effects of the cavity-causing bacteria. This makes chewing xylitol gum a particularly good solution for people who suffer from dry mouth.
How much xylitol do you need to prevent cavities?
We recommend that you chew or suck on two pieces of xylitol gum or two pieces of xylitol candy for five minutes following meals or snacks, four times daily — if you are at moderate to extreme risk for cavities. The target dose of xylitol is 6 to 10 grams (one or two teaspoons) spread throughout the day. Prolonged gum chewing is not advised, so most xylitol-sweetened products contain flavor that only lasts a short time to discourage excessive chewing. The only side effect of too much xylitol ingestion is that it may have a mild laxative effect.
I don't like chewing gum. Is there another way to get xylitol?
People who don't like to chew gum have the option of using xylitol in mints, candies, mouthwash, toothpaste, or mouth sprays. For these individuals, a minimum dose is 5 to 6 grams (one teaspoon) three times per day.
So now you can add xylitol to the list of ways to fight cavities: daily brushing and flossing, and regular professional cleanings — and chewing xylitol gum.
Contact us today to schedule an appointment to discuss your questions about xylitol and other methods of preventing tooth decay. You can also learn more by reading the Dear Doctor magazine article "Xylitol in Chewing Gum."