Posts for: April, 2012
By Dental Solutions of Winter Haven
April 17, 2012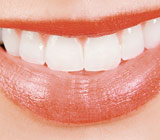 When you have your teeth bleached in a dental office, the results almost seem like magic. Let's push aside the magician's cape and see what is really happening in professionally-applied, in-office tooth whitening.
How do teeth become discolored?
A tooth's enamel covering is mostly composed of mineral crystals. At a microscopic level, you can see a framework or matrix of organic (living) matter interspersed between the crystals of enamel creating a very irregular surface capable of retaining stains. Chromagenic (color generating) organic compounds can become part of this organic matrix resulting in tooth staining. They can be bleached without affecting the mineral structure of the tooth's enamel.
As people get older and their teeth wear, the enamel loses its youthful translucency and the underlying layer, called dentin, thickens and becomes more yellow. Such changes to the actual tooth structure are called intrinsic staining. Other causes of intrinsic discoloration are exposure to high levels of fluoride or tetracycline antibiotic administration during childhood, tooth decay, or root canal problems, among others. Discoloration can also be caused by external staining from certain foods, drinks, or tobacco products. Such surface stains are called extrinsic staining.
Behind the Magic
Materials used for tooth bleaching are hydrogen peroxide and carbamide peroxide. Peroxides are commonly used as bleach, and you may have seen them used as hair bleaches, for example. Hydrogen peroxide is a strong oxidizing agent that attacks the organic molecules responsible for tooth discoloration, bleaching them until they lose their color. Carbamide peroxide also contains urea, which is a compound that permits the peroxide to remain in contact with the teeth for longer amounts of time without harming them.
Often called power bleaching, the in-office technique uses a high concentration of peroxide solution (35-45% hydrogen peroxide), placed directly on the teeth in the form of a gel. A heat or light source may enhance the peroxide release. The gel is applied with trays custom fitted to your mouth, and specific barriers are applied to protect sensitive gum tissue from the solution. Results show teeth becoming up to ten shades lighter in about an hour.
In-office bleaching under the supervision of my staff and me is recommended if you have severely stained teeth, and particularly if you are about to have veneers or crowns made. It's a way to rediscover the pearly translucency of your youthful smile.
Contact us today to schedule an appointment to discuss your questions about tooth bleaching. You can also learn more by reading the Dear Doctor magazine article "Teeth Whitening."
By Dental Solutions of Winter Haven
April 02, 2012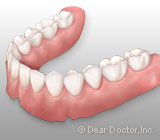 If an adult has lost his or her teeth (a condition called "edentulism"), full removable dentures (false teeth) can restore the person's appearance and ability to bite, chew, and talk properly. Even with our current extensive knowledge about tooth care and restoration, over 25 percent of Americans have lost all their teeth by the time they are 65.
How much do you know about dentures? Test yourself below.
How does tooth loss affect your bones?
Bone is a living substance that is constantly changing and rebuilding itself, depending on signals it receives from surrounding tissues. The bone that surrounds your teeth is called alveolar bone (from "alveolus," meaning sac-like). To keep healthy, alveolar bone needs stimulation or function such as chewing and your teeth touching your opposing teeth. If you lose your teeth, bone begins to melt away (resorb).
How can we minimize bone loss during tooth extraction?
We can maintain bone volume by using bone grafting techniques. While this sounds scary, it is a relatively easy procedure. The principle of bone grafting is to build a sort of scaffolding on which your body begins to build and maintain its own bone. Bone loss can be prevented by the placement of a few dental implants.
How are dentures designed and created?
The dentures that look best and work best for you are based on your original teeth. We often utilize photographs of how you looked with your natural teeth, along with your input about possible changes you would like to see. First we take detailed impressions (molds) of the residual ridges in which your teeth once rested. From these we make denture bases of a light cured plastic resin. We attach horseshoe-shaped rims made of wax to the bases, to simulate the position of the teeth as we work out their design and spacing, based on both appearance and function. The prosthetic teeth are then tried out in your mouth, adjustments are made, and the dentures are processed in a dental laboratory. The final product substitutes a pink colored plastic (methyl methacrylate) to represent the gums and white plastic material as the teeth, created to make them look as natural as possible.
What is your part in the denture fitting process?
As a patient with new dentures, you must learn to use your jaw joints, ligaments, nerves, and muscles in new ways to help stabilize your dentures and to relearn to speak, bite, chew, smile, and laugh with these new structures. It takes a little practice, but with your removable dentures you can once again enjoy a complete and normal life.
Contact us today to schedule an appointment to discuss your questions about full removable dentures. You can also learn more by reading the Dear Doctor magazine article "Removable Full Dentures."