Posts for: February, 2012
By Dental Solutions of Winter Haven
February 17, 2012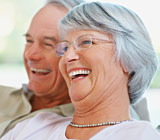 Whether you have worn dentures for years or they are new to you, knowing the proper way to care for them is critical. This is why we have put together this fun and insightful test so that you can see just how much you know.
After reading each of the following statements below, determine whether you think the statement is true or false. See below for the answers.
Boiling your dentures at least once a week is an excellent way to sterilize them.
With a proper fit, it is perfectly acceptable to wear your dentures continuously (24 hours per day).
The bacterial biofilm that accumulates under a denture causes inflammation referred to as denture stomatitis.
You should store your dentures immersed in water after cleaning or when not in your mouth.
Once you have dentures (and no longer have any teeth), you really only need to schedule a dental appointment if you have a problem with your dentures or damage them.
To best clean a denture, you should use a slightly abrasive cleanser and a firm toothbrush.
The pressure from wearing dentures causes jawbone loss over time.
The optimal method for cleansing your gums is to take a moistened washcloth and gently massage your gums two times each day.
If you are careful, you can use denture cleaners while your false teeth are in your mouth.
You should never use sodium hypochlorite bleach to clean your dentures.
Answers
1. False. You should never boil dentures. 2. False. You should not wear your dentures 24/7. 3. True. 4. True, as this prevents your dentures from warping. 5. False. Even though you may not have teeth, you need to visit our office at least once a year for a thorough examination and to ensure your dentures are fitting and functioning properly. 6. False. You should never use a firm toothbrush OR any type of abrasive cleanser to clean your dentures. 7. True. This is unfortunate, but a fact nonetheless. 8. True. 9. False, you should only use a denture cleanser outside of the mouth. 10. False. Sodium hypochlorite bleach is an excellent cleanser; however, you should never soak your dentures in this solution for periods that exceed 10 minutes.
To learn more tips, continue reading the Dear Doctor magazine article "Top Ten Tips For Denture Care & Maintenance." Or you can contact us today to schedule an appointment to discuss your questions.
By Dental Solutions of Winter Haven
February 02, 2012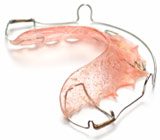 The much anticipated day has arrived: your child's braces have been removed. You are really happy with the way your son's or daughter's smile looks now. All the time, money, and discomfort of having teeth straightened have been well worth it.
But did you know that the teeth could relapse into their old positions if your child doesn't wear a retainer every night?
Why is wearing a retainer necessary?
It is important for both you and your child to understand the reason for wearing a retainer. It has to do with how orthodontia works in causing teeth to move to more satisfactory positions.
The reason that orthodontia ("ortho" – straight, "odont" – tooth) works is that the tissues holding teeth in place are living and keep remodeling themselves. Teeth are suspended in the jawbone by the periodontal ligament ("peri" – around, "odont" – tooth), which suspends the tooth by extending from the cementum of the tooth on one side into the bone on the other. Cementum is the thin layer of calcified tissue covering the dentin of the root. When light forces are placed on it, the periodontal ligament can reform itself and adapt to the pressures it is under.
Orthodontists know how to keep the pressures during orthodontic treatment light enough to cause movement that is slow and steady but not so strong that the tissues are damaged. If too much force is applied, the process can cause damage to the periodontal tissues and tooth roots.
When the teeth have moved to their desired positions, they will continue slowly moving. The purpose of a retainer is to stabilize the teeth in their "finished" position. They must be retained in this position long enough that the bone and ligament can completely re-form around them, a process that can take several months.
Make it clear to your child that a retainer won't have to be worn forever. Once your child understands that it is very important to wear the retainer for a few months in order to stabilize that attractive new smile, it should be easy to convince him or her to use it nightly.
Contact us today to schedule an appointment to discuss your questions about retainers. You can also learn more by reading the Dear Doctor magazine article "Why Orthodontic Retainers?"