Posts for: January, 2012
By Dental Solutions of Winter Haven
January 18, 2012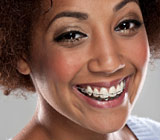 You didn't have your teeth straightened as a child. Is it too late, or should you have orthodontic treatment now as an adult?
Orthodontics is a sub-specialty of dentistry devoted to the study and treatment of improper bites, or malocclusions. Orthodontic treatment has the goal of slowly applying pressure to teeth in a way that moves them into proper alignment in your mouth.
Recommendations are for children to have their teeth assessed for orthodontic treatment before the age of seven. The whole process can be done more easily while their teeth are coming in and their jaws are still growing.
However, if your teeth are overcrowded, you have an overbite or an underbite, or your teeth are misaligned in other ways, it is never too late. If you "missed the boat" on orthodontic treatment before, here are seven reasons to consider doing it now.
Orthodontic treatment brings teeth, lips and face into proportion, resulting in a beautiful smile.
An attractive smile contributes to self-esteem, self-confidence and better self-image.
Because of improved self-esteem, you may see improved social and career success.
Teeth that are in proper alignment will function and wear better over the years as you age.
Properly aligned teeth are easier to keep clean, making you less prone to periodontal (gum) disease.
If you have any missing teeth that need to be replaced, this can be done more effectively if your remaining teeth are put into their correct spacing and position first.
Current options for treatment include fixed appliances (traditional braces) in which bands and brackets are bonded to the teeth and wires are threaded through them — or as an adult you may be able to use removable clear aligners. These consist of a series of nearly invisible computer-generated clear plastic trays that progressively move the teeth into better alignment.
Take the first step: call our office for an orthodontic evaluation. Having orthodontic treatment as an adult may be just the thing to give you an attitude boost as you move forward in your life.
Contact us today to schedule an appointment to discuss your questions about teeth straightening. You can also learn more by reading the Dear Doctor magazine article "Why Straighten Teeth?"
By Dental Solutions of Winter Haven
January 03, 2012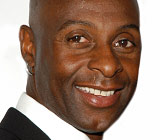 Athletic activity can boost your health, but many sports also carry some risk — especially to the teeth. This is something NFL wide receiver Jerry Rice well knows.
"Football can be brutal — injuries, including those to the face and mouth, are a common risk for any player," Rice noted in an interview with Dear Doctor magazine. In fact, Rice himself chipped a couple of teeth, which were repaired with crowns. "There wasn't a lot of focus on protecting your teeth in high school," Rice recalled.
You don't have to be a legend of the NFL to benefit from the type of high-quality mouthguard a dentist can make for you or your child. Consider that:
An athlete is 60 times more likely to suffer harm to the teeth when not wearing a mouthguard.
Mouthguards prevent an estimated 200,000 or more injuries each year.
Sports-related dental injuries account for more than 600,000 emergency room visits annually.
Each knocked-out tooth that is not properly preserved or replanted can cause lifetime dental costs of $10,000 to $20,000.
You and/or your child should wear a mouthguard if you participate in sports involving a ball, stick, puck, or physical contact with another player. Mouthguards should be used for practice as well as actual games.
It's also important to be aware that all mouthguards are not created equal. To get the highest level of protection and comfort, you'll want to have one custom-fitted and professionally made. This will involve a visit to our office so that we can make a precise model of your teeth that is used to create a custom guard. A properly fitted mouthguard is protective, comfortable, resilient, tear-resistant, odorless, tasteless and not bulky. It has excellent retention, fit, and sufficient thickness in critical areas.
If you are concerned about dental injuries or interested in learning more about mouthguards, please contact us today to schedule an appointment for a consultation. If you would like to read Dear Doctor's entire interview with Jerry Rice, please see "Jerry Rice." Dear Doctor also has more on "Athletic Mouthguards." and "An Introduction to Sports Injuries & Dentistry."