Posts for tag: veneers
By Dental Solutions of Winter Haven
August 01, 2014
Nothing says confidence like a bright, beautiful smile. But problems with your teeth's appearance — discoloration, abnormal shapes, or gaps — may be giving you reasons not to smile. If so, you may be a candidate for porcelain veneers.
A veneer is a thin covering of porcelain or other dental material permanently attached to the face of a tooth to improve its appearance. Veneers help resolve a variety of aesthetic issues: their life-like color can brighten dull, stained teeth; they can "lengthen" shortened teeth caused by wear or normalize congenitally misshapen teeth; they're also helpful in reducing small gaps or used in conjunction with orthodontics for more serious misalignments.
The first step to a better smile with veneers is to assess your teeth's current condition and develop a treatment plan. Your input is extremely important at this stage — what changes you believe would improve your smile. We would also offer valuable insight, based on our knowledge and experience, into what is realistically possible and aesthetically appealing regarding porcelain veneers.
Once you have decided to go forward, the next step is to prepare the teeth for attaching the veneers. Depending on their size and location, this preparation can range from no tooth structure removal to a relatively small amount of structure. If the latter is needed, we remove only what's necessary to achieve the aesthetic result since structural reduction isn't reversible.
After preparing an impression of your teeth, we would send it and other instructions to a dental technician to create the permanent veneers. In the meantime, we'll install a temporary set for you to wear while the permanent set is under construction.
Once we attach the permanent veneers, they will adhere so securely a drill or laser would be needed to remove them. We achieve this attachment by creating microscopic pores on the face of the teeth and the inside of the veneer with a mild acid solution. The bonding cement seeps into these pores and creates a strong bond that virtually unites the tooth and veneer into one.
Although your new veneers are made to last, you'll need to maintain them like your other teeth, with a little added caution when biting and chewing. All in all, though, you'll be able to smile again with confidence — for many years to come.
If you would like more information on porcelain veneers, please contact us or schedule an appointment for a consultation. You can also learn more about this topic by reading the Dear Doctor magazine article "Porcelain Veneers."
By Dental Solutions of Winter Haven
May 15, 2013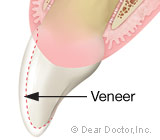 Porcelain laminate veneers are one of the innovative techniques dentistry has developed for restoring teeth to improve their color and shape so that they look as good as or better than the originals.
What are porcelain veneers? Porcelain is a ceramic material that is baked in a high-heat oven until it becomes glass-like. Your grandmother's antique china teacups are probably made of porcelain. Dental porcelains are especially made to perfectly mimic the color, reflectivity and translucency of natural tooth enamel. A veneer is a covering or shell, a false front; dental porcelains can be fashioned into veneers used to restore the enamel surfaces of teeth.
What is a laminate? A laminate is a structure created by uniting two or more layers of material together. Dental porcelain laminate veneers refer to the combination of tooth enamel bonding material and porcelain veneer.
When are porcelain laminate veneers used? Porcelain veneers are used to enhance the color of stained, darkened, decayed and heavily restored teeth. They are also used to: correct spaces between teeth; straighten slightly rotated teeth; correct problems in tooth shape and some bite problems. They can be good solutions for broken teeth or teeth that have been worn by habitual tooth grinding.
What is the process of placing the veneers? Room generally needs to be created to place a veneer; generally requiring about half a millimeter of reduction of tooth enamel. Artistic dental laboratory technicians fabricate veneers. About a week of laboratory time is usually needed to construct your veneers.
How do I know whether I will like the way my new veneers look? Computer imaging can be used to digitally replicate your teeth and create images of the proposed changes. Models of your teeth can be cast and changes can be made in white wax for your preview. Temporary veneers can also be fabricated as a test drive before the final veneers are fabricated.
How long will porcelain veneers last? Veneers can last 20 years or more. They are very strong but like glass, they can break if extreme force is applied to them. You should avoid such activities as opening bottles, cracking nuts, or biting into candy apples with your veneers.
How do I look after my new veneers? Once the veneers are placed, you should continue daily brushing and flossing. There is no higher incidence of decay around them than with your natural teeth. However, the more dental work you have in your mouth, the more vigilant you need to be. Of course, keeping your sugar consumption low helps to protect all of your teeth from decay.
Contact us today to schedule an appointment or to discuss your questions about porcelain laminate veneers. You can also learn more by reading the Dear Doctor magazine article "Smile Design Enhanced with Porcelain Veneers."
By Dental Solutions of Winter Haven
March 03, 2012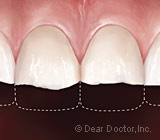 Even with good dental hygiene and care, your teeth may show signs of wear as you age. Fortunately, we now have ways to treat these symptoms of aging and restore a youthful look and function to your teeth and jaws.
How Do Teeth Wear?
All the tissues in your body are constantly in a process of breaking down (catabolism) and rebuilding (anabolism). During childhood the anabolic processes exceed the catabolic processes. But after you have reached physical maturity the balance changes and the breakdown process begins to draw ahead of the building up. The result: signs of wear.
In your teeth, the outer layer, the enamel, is a hard, mineralized substance that is resistant to wear. Under the enamel is a layer called dentin, which is a living tissue something like bone. As teeth age, the dentin layer thickens, causing teeth to lose some of their whiteness. Most wear to your teeth comes from the pressure of the upper and lower teeth's biting surfaces against each other. How much wear occurs depends on your bite or occlusion (how the teeth are aligned, and how they meet) and the ways in which you use your teeth.
Constant interactions between the biting surfaces of your teeth result in removal of small amounts of enamel. Your body naturally compensates for this wearing away of material. As teeth wear, they erupt from your jaws by tiny amounts, moving slightly up or down to stay in the proper occlusal relation with the teeth on the other jaw. They also slowly move toward the front of your mouth.
If the wear becomes excessive, your body can no longer compensate for it. At this point you may find that your bite relationships are not working correctly, and the lower third of your face loses height. This creates or accentuates an older appearance.
Some people clench or grind their teeth, applying greater than normal — and damaging — forces to their teeth. This problem, often a reaction to stress, is called bruxism. It can cause a number of problems from jaw pain to loose teeth or excessive wear or tooth fractures. If you suffer from excessive wear due to bruxism, a professionally made mouthguard may prevent further damage.
Modern Dentistry Can Restore a Youthful Look
Modern dentistry can successfully restore the normal shape, appearance and function of worn teeth by installing porcelain crowns or veneers. These not only replace the tooth structure lost through wear, but they also restore the bite relationship. Crowns on excessively worn teeth can dramatically improve tooth color and facial appearance, resulting in a more harmonious, younger look.
Contact us today to schedule an appointment to discuss your questions about dental wear and aging. You can also learn more by reading the Dear Doctor magazine article "How and Why Teeth Wear."