Posts for tag: tooth colored fillings
By Dental Solutions of Winter Haven
June 13, 2013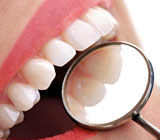 Once upon a time, when you had a cavity, you went to the dentist and came back with a tooth filled with metal: the common silver (or, technically speaking, "dental amalgam") filling. But today — driven by dental researchers' quest to find a better filling material, and by the desire of many people to avoid a mouth full of dull gray metal — there are other choices.
In recent years, metal-free, tooth-colored fillings have evolved into a well-established treatment method that's finding increasing use — not just in the front of the mouth, where it's most visible, but in the back too. To help understand the benefits of these new materials, let's start by looking at the structure of the tooth.
We usually think of teeth as being hard, sturdy and durable. But did you know that their crowns, or top surfaces above the gums, actually flex under the force of the bite? Understanding the composition and behavior of teeth has led researchers to develop newer and better materials for restoration. These include improved dental porcelains and composite resins which more closely mimic the natural teeth in both function and form: That is, they're strong and good-looking too.
What's more, using these materials for fillings may mean that you can get the same result with a more conservative treatment. How? It all comes down to tooth structure. To secure a traditional amalgam (silver) filling, a tooth often had to be shaped with "undercuts," which helped hold the material in place. This meant the removal of a greater amount of tooth structure, potentially leading to chipping or cracking of the tooth down the road.
Enter composite resins. Bonding these materials to the underlying tooth doesn't require undercutting, so less of the healthy tooth is removed. That makes for a more robust tooth structure, with potentially greater longevity. Combine that advantage with the aesthetic appeal of a restoration that's hard to tell apart from natural teeth, and you've got a winning combination.
There are different options available for restorations with tooth-colored materials. These range from quick, single-visit fillings for small cavities, to the fabrication of more extensive replicas of the tooth for complicated restorations. Exactly which treatment is needed will depend on an individual's particular dental issue and the kind of results they desire. Whatever the case may be, we can listen to your concerns, answer your questions, and offer the best advice regarding your treatment options.
If you would like more information about tooth-colored fillings, please contact us or schedule an appointment for a consultation. You can also learn more about this topic by reading the Dear Doctor magazine article "The Natural Beauty of Tooth-Colored Fillings."
By Dental Solutions of Winter Haven
May 17, 2012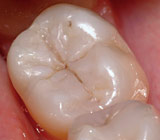 Until recently anyone who needed to repair cavities in his or her teeth ended up with a mouth full of "silver" fillings. Dental amalgam, which has a silver appearance, was the tooth restoration material of choice. Amalgam, a combination of metals including silver, mercury, and other metals, is still used — but today there are other options that mimic the original teeth they are restoring.
You may have read about some people's concerns about the mercury used in dental amalgam. According to the American Dental Association (ADA), scientific studies have found no ill effects arising from using dental amalgam in fillings for adults or children: "While questions have arisen about the safety of dental amalgam relating to its mercury content, the major US and international scientific and health bodies, including the National Institutes of Health, the US Public Health Service, the Centers for Disease Control and Prevention, the Food and Drug Administration and the World Health Organization, among others have been satisfied that dental amalgam is a safe, reliable and effective restorative material." Dental amalgam is still used for molars (back teeth) that must withstand heavy pressure from chewing.
For teeth that are more visible, materials that look and perform more like the original teeth — and are thus more pleasing in appearance — are now available. Dentistry is now taking a "biomimetic approach" (from words meaning "life mimicking"). The new materials — composite resins and porcelains — look like teeth because in many ways their structure imitates the biologic structure of teeth.
Composite resins are made of a plastic material (methacrylate) combined with fillers made of silica, a form of glass. They are able to bond to natural tooth structure and resemble the dentin, the inner layer of the tooth, which has a porous structure similar to bone.
Dental porcelains are a form of ceramic. They are non-metallic materials formed by the action of heat, like the ceramics used in porcelain cups and bowls. They come in a powder form that is mixed with water, shaped, and then placed in an oven until they reach the proper hardness. The end product is translucent and very hard, resembling the densely packed crystals of calcium that make up a tooth's normal outer layer, the enamel.
The old amalgam fillings required removal of tooth material to prepare a site in which they could be placed. Composite resins and porcelains can be used to treat teeth that have small or large amounts of damage to their natural substance because the materials bond directly to the remaining dentin and enamel. Thus they end up stabilizing and strengthening the restored tooth, as well as providing a natural-looking appearance.
Contact us today to schedule an appointment to discuss your questions about tooth colored fillings. You can also learn more by reading the Dear Doctor magazine article "The Natural Beauty of Tooth Colored Fillings."