Posts for tag: retainers
By Dental Solutions of Winter Haven
December 20, 2013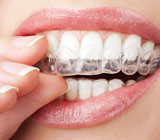 Whether they come as removable devices or wires permanently attached behind the front teeth, orthodontic retainers have a crucial job to do in your mouth. Here's the skinny on what you ought to know about them.
1) Retainers keep your new smile looking the way it should.
After having braces to move your teeth into the desired position, a retainer is needed to keep them from moving right back where they were! In time, the periodontal ("peri" – around; "odont" – tooth) structures, which are constantly renewing themselves, will adapt to their new positions, and the teeth will stabilize.
2) There are different types of retainers.
Once upon a time, retainers were made of pink plastic and bent wire, and were removable. They're still available — but a common alternative today is to have clear retainers that fit onto your teeth covering them entirely or to have thin wires bonded to the inside of the front teeth They don't show, and you don't have to worry about putting them in and taking them out. If you prefer, ask us whether this type of retainer would work for you.
3) It takes several months for your teeth to become stable in a new arrangement.
Teeth must be held in position long enough for the bone and ligament that attaches them to the jaw to re-form and mature around them. A retainer helps avoid trauma as the teeth and associated structures are adjusting to relocation, allowing the process to end slowly and gently.
4) Even when they're stable, your teeth are always in a "dynamic" state.
There is some "memory" inherent in bone and gum tissue, which tends to cause teeth to shift back to their former positions for a long period of time after treatment. But teeth aren't held in place just by bone and ligament — a balance between the forces of the lips, cheeks and tongue also helps them stay put. This balance changes over a period of time.
5) The movement of teeth is unique to each person, and is not predictable.
Contrary to what orthodontists used to believe, there is no "right" position for the teeth that assures they will stay in place permanently. In time, the position of the teeth may change due to a slow "uprighting" movement of the front teeth in the lower jaw, which causes them to crowd as they move toward the tongue. Other factors may also cause a gradual movement of the teeth. But remember to always follow our recommendations; they will help keep your smile looking its best.
If you would like more information about orthodontic retainers, please contact us or schedule an appointment for a consultation. You can also learn more about this topic by reading the Dear Doctor magazine articles "Why Orthodontic Retainers?" and "The Importance of Orthodontic Retainers."
By Dental Solutions of Winter Haven
June 16, 2012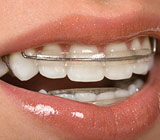 We'd like to take a moment to clarify why it is so important to wear the retainer(s) given to you after your orthodontic treatment. These devices, which literally "retain" your teeth in their new and improved positions, are not just for kids. Anyone who has recently had their teeth moved through orthodontics needs to wear them for the prescribed length of time. Here's why:
Though your teeth may now look perfectly aligned, research has shown that there is no "right" position for your teeth to be in that can assure they don't move again — no matter what age you are when treated for malocclusion ("mal" – bad; "occlusion" – bite). In fact, most people will see changes to their bite and tooth alignment as they get older, with or without orthodontic treatment.
For one thing, there is a natural tendency for bottom front teeth to undergo a gradual "uprighting" with age. This can cause them to crowd as they move toward the tongue. And it happens regardless of whether wisdom teeth are present.
In the case of teeth that have been straightened recently, a type of "memory" of their original position may cause them to drift back to it. This tendency gradually lessens, but it may be a problem for up to 18 months.
That's why it's crucial to follow our instructions for wearing retainers. Keep in mind that the plan we have given you is designed to achieve the best possible results in your individual case. Some people will need to wear retainers 24 hours per day, some just at night, and still others on an as-needed basis. You may have received a removable retainer or one that is secured to the back of your teeth. The important thing is to secure the results you've worked so hard to achieve.
If you have any questions about orthodontic retainers, please contact us, or schedule an appointment for an orthodontic consultation.
You can read more about this topic in the Dear Doctor magazine article "The Importance of Orthodontic Retainers."