Posts for tag: mouthguards
By ental Solutions of Winter Haven
January 25, 2020
What's your favorite winter sport? For some, it's all about swooshing down a snowy trail on skis, a board, or a sled. For others, the main attraction is skating at an ice rink or a frozen pond. If you're more of an indoors athlete, you may enjoy a fast-moving game of basketball or a round of squash. Or, you might take a turn on a climbing wall or a trampoline.
What do all these activities have in common? They're fun, they're great exercise…and they all come with a risk of injury to your teeth.
It's easy to see how a collision on snow or ice could result in a blow to the mouth. But did you know that basketball (along with hockey) is among the sports with the highest risk of facial injury? What's more, many "non-contact" sports actually have a similar risk.
Located front and center in the face, the incisors (front teeth) are the ones most likely to sustain injury. Unfortunately, they are also the most visible teeth in your smile. With all of the advances in modern dentistry, it's possible to restore or replace damaged teeth in almost any situation—but the cost can be high, both for present restoration and future preservation. Is there a better alternative?
Yes! It isn't sitting at home—it's wearing a custom-made mouthguard when there's a risk of facial injury.
Most people don't ski or play hockey without protective gear like a helmet. A mouthguard can effectively protect against dental injury that might otherwise be serious. Available here at the dental office, a custom mouthguard is made from an exact model of your own teeth, so it's comfortable to wear and fits perfectly—but no safety equipment can work if you don't use it!
So whether you like to hit the trails or the gym this winter, don't forget to bring a custom-made mouthguard. It's a small piece of gear that can save you from a big headache!
If you would like more information on mouthguards, please contact us or schedule a consultation. You can learn more by reading the Dear Doctor magazine articles "Athletic Mouthguards" and "An Introduction to Sports Injuries & Dentistry."
By ental Solutions of Winter Haven
December 23, 2017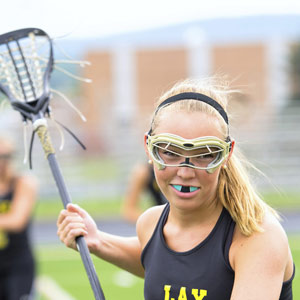 Since boxers first began using them a century ago, athletic mouthguards are now standard safety equipment for most contact sports. Without them, dental injuries would skyrocket.
But a recent study in the peer-reviewed journal, General Dentistry, indicates there's another important reason to wear a mouthguard for contact sports or exercise: you may be able to significantly reduce your risk for a mild traumatic brain injury (MTBI), better known as a concussion. It's believed the mouthguard absorbs some of the force generated during contact, resulting in less pressure to the brain. That reduction is even more significant if your mouth-guard has been custom-made by a dentist.
That last finding is important, because not all mouthguards on the market are equal. There are three basic categories of mouthguards — stock, "boil and bite," and custom. Stock mouthguards come in limited sizes; they're relatively inexpensive, but they provide the least level of protection. "Boil and bite" can be customized after purchase to the wearer's bite, but they don't always provide complete coverage of back teeth. Custom mouthguards are designed and fashioned by a dentist; they're relatively expensive (running in the hundreds of dollars), but there's ample evidence they provide the highest level of protection from mouth injuries.
The General Dentistry study also corroborates custom mouthguards' effectiveness in preventing concussions. The study followed approximately 400 football players from six different high school teams. While all the players wore the same type of helmet, half of them wore custom-made mouthguards and the other half wore stock guards. 8.3% of the athletes wearing stock guards experienced a concussion injury; by contrast only 3.6% of those with custom guards sustained an injury — greater than half fewer occurrences.
The study also highlights the need not to rely solely on helmets or other protective headgear for concussion prevention. It's important to include mouthguards along with other athletic protective gear to lower injury risk as much as possible.
So when considering how you can provide the optimum injury protection for you or your child, be sure to include an athletic mouthguard, preferably one that's custom-made. We'll be happy to advise you further on what you need to know to prevent traumatic dental injuries, as well as concussions.
If you would like more information on custom-fit mouthguards, please contact us or schedule an appointment for a consultation. You can also learn more about this topic by reading the Dear Doctor magazine article "Mouthguards."
By Dental Solutions of Winter Haven
January 03, 2012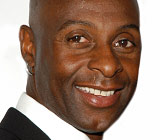 Athletic activity can boost your health, but many sports also carry some risk — especially to the teeth. This is something NFL wide receiver Jerry Rice well knows.
"Football can be brutal — injuries, including those to the face and mouth, are a common risk for any player," Rice noted in an interview with Dear Doctor magazine. In fact, Rice himself chipped a couple of teeth, which were repaired with crowns. "There wasn't a lot of focus on protecting your teeth in high school," Rice recalled.
You don't have to be a legend of the NFL to benefit from the type of high-quality mouthguard a dentist can make for you or your child. Consider that:
An athlete is 60 times more likely to suffer harm to the teeth when not wearing a mouthguard.
Mouthguards prevent an estimated 200,000 or more injuries each year.
Sports-related dental injuries account for more than 600,000 emergency room visits annually.
Each knocked-out tooth that is not properly preserved or replanted can cause lifetime dental costs of $10,000 to $20,000.
You and/or your child should wear a mouthguard if you participate in sports involving a ball, stick, puck, or physical contact with another player. Mouthguards should be used for practice as well as actual games.
It's also important to be aware that all mouthguards are not created equal. To get the highest level of protection and comfort, you'll want to have one custom-fitted and professionally made. This will involve a visit to our office so that we can make a precise model of your teeth that is used to create a custom guard. A properly fitted mouthguard is protective, comfortable, resilient, tear-resistant, odorless, tasteless and not bulky. It has excellent retention, fit, and sufficient thickness in critical areas.
If you are concerned about dental injuries or interested in learning more about mouthguards, please contact us today to schedule an appointment for a consultation. If you would like to read Dear Doctor's entire interview with Jerry Rice, please see "Jerry Rice." Dear Doctor also has more on "Athletic Mouthguards." and "An Introduction to Sports Injuries & Dentistry."