Posts for tag: fluoride
By ental Solutions of Winter Haven
December 06, 2019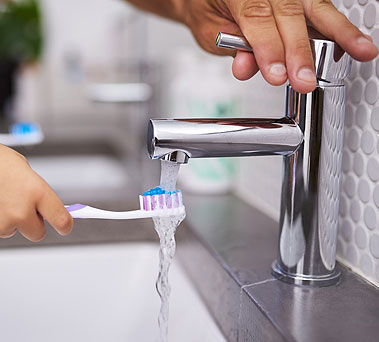 The U.S. Centers for Disease Control and Prevention calls it "one of the ten most important public health measures of the 20th Century." A new vaccine? A cure for a major disease? No—the CDC is referring to the addition of fluoride to drinking water to prevent tooth decay.
Fluoride is a chemical compound found in foods, soil and water. Its presence in the latter, in fact, was key to the discovery of its dental benefits in the early 20th Century. A dentist in Colorado Springs, Colorado, whose natural water sources were abundant with fluoride, noticed his patients' teeth had unusual staining but no tooth decay. Curious, he did some detective work and found fluoride in drinking water to be the common denominator.
By mid-century, fluoride was generally recognized as a cavity fighter. But it also had its critics (still lively today) that believed it might also cause serious health problems. Ongoing studies, however, found that fluoride in tiny amounts—as small as a grain of sand in a gallon of water—had an immense effect strengthening enamel with scant risk to health.
The only condition found caused by excess fluoride is a form of tooth staining called fluorosis (like those in Colorado Springs). Fluorosis doesn't harm the teeth and is at worst a cosmetic problem. And it can be avoided by regulating the amount of ingested fluoride to just enough for effectively preventing tooth decay.
As researchers have continued to learn more about fluoride, we've fine-tuned what that amount should be. The U.S. Public Health Service (PHS), which sets standards for fluoride in drinking water, now recommends to utilities that fluoridate water to do so at a ratio of 0.7 mg of fluoride to 1 liter of water. This miniscule amount is even lower than previous recommendations.
The bottom line: Fluoride can have an immense impact on your family's dental health—and it doesn't take much. Excessive amounts, though, can lead to dental staining, so it's prudent to monitor your intake. That means speaking with your dentist about the prevalence of fluoride in your area (including your drinking water) and whether you need to take measures to reduce (or expand) your use of it.
If you would like more information on how best fluoride benefits your family's dental health, please contact us or schedule an appointment for a consultation. You can also learn more about this topic by reading the Dear Doctor magazine article "Fluoride & Fluoridation in Dentistry."
By ental Solutions of Winter Haven
November 23, 2017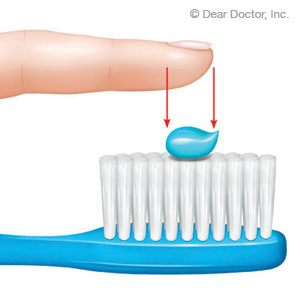 Since the 1950s fluoride has played an important role in the fight against tooth decay as an additive to hygiene products and many public water supplies. But although a proven cavity fighter, some have questioned its safety over the years.
To date, though, the only substantiated health risk from fluoride use is a condition known as enamel fluorosis, which occurs when too much fluoride is ingested during early tooth development as the mineral embeds in the tooth structure. Fluorosis can cause changes in the enamel's appearance, ranging from barely noticeable white streaking to darker visible staining and a pitted texture.
Fluorosis is primarily a cosmetic problem and not a serious health issue. The staining on otherwise sound teeth, however, is permanent and more severe cases may require extensive bleaching treatment to improve appearance. The best strategy is to prevent fluorosis by monitoring and limiting your child's fluoride intake, until about age 9.
Tooth decay is a more serious condition than fluorosis so we're not advocating you eliminate fluoride but that you keep your family's intake within safe levels. The first step is to determine just how much that intake is now, particularly if you drink fluoridated water. If you have public water, you may be able to find its fluoridation level online at apps.nccd.cdc.gov or call the utility directly.
You should also be careful about the amount of toothpaste your child uses to brush their teeth. Children under two need only a trace (a "smear") on the brush, and children between the ages of 2 and 6 a pea-sized amount. And, they should brush no more than twice a day.
Another possible concern is infant formula, especially mixable powder. While the formula itself doesn't contain fluoride, water mixed with it may. If you live in an area with increased fluorosis risk, consider breast-feeding (breast milk has little fluoride), using ready-to-feed formula, or mixing powdered formula with bottled water labeled "de-ionized," "purified," "demineralized" or "distilled."
We'll be glad to help assess your family's current fluoride intake and advise you on making adjustments to bring it into normal ranges. Taking in the right amount of fluoride assures you and your children receive the most benefit and protection from it, while avoiding future smile problems.
If you would like more information on managing your family's fluoride intake, please contact us today to schedule an appointment for a consultation. You can also learn more about this topic by reading the Dear Doctor magazine article "Tooth Development and Infant Formula."
By Dental Solutions of Winter Haven
December 19, 2012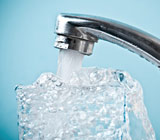 The CDC (Centers for Disease Control and Prevention) calls fluoridation of drinking water one of the ten most important public health measures of the 20th century, along with such measures as vaccination and motor-vehicle safety.
A fluoride concentration of about one milligram per liter (1 mg/L), or 1 part per million (1ppm), in the water supply is associated with substantially fewer cavities. This concentration of fluoride (equivalent to a grain of salt in a gallon of water) has been found to have no negative health effects.
The connection between fluoride and oral health was confirmed in the first half of the 20th century, and by 1955 the first clinically proven fluoride toothpaste was launched. Fluoride-containing toothpastes are common today, along with other fluoride-containing products.
Protective Effects of Fluoride
Ongoing studies have shown that fluoride has both a systemic (through the body) effect and a local effect at the tooth surfaces. Tooth decay takes place as part of a kind of active war between de-mineralization and re-mineralization, in which acids produced by bacteria in plaque (a biofilm in your mouth) soften and dissolve the minerals (de-mineralization) in the tooth's surface. At the same time, the saliva bathing the tooth acts to re-harden the tooth's surface by adding minerals back (re-mineralization). If fluoride is present in the biofilm and in the saliva, it protects against de-mineralization.
The fluoride you drink in your water is deposited in your bones. Bone is an active living substance that is constantly broken down and rebuilt as a normal body process. As this happens the fluoride is released into the blood, from which it can enter the saliva and act on the tooth surface. The fluoride in toothpastes and products like rinses is delivered directly to the tooth surface. Fluorides can also be eaten in foods with high fluoride content such as teas, dry infant cereals and processed chicken, fish and seafood products.
Problems with Over-use
Eating or swallowing too much fluoride can contribute to a discoloration of teeth called dental fluorosis, which varies in appearance from small white striations to stained pitting and severe brown mottling of the enamel. To avoid this effect, monitor children's tooth brushing to make sure they use only a small amount of fluoride toothpaste and do not swallow it.
Adding fluoride to water has been controversial because some people believe that it may cause other harmful effects. However, most health experts believe that fluoridated water carries no significant health risks and significantly contributes to public health by preventing tooth decay.
Contact us today to schedule an appointment to discuss your questions about fluoride. You can also learn more by reading the Dear Doctor magazine article "Fluoride & Fluoridation in Dentistry."