Posts for tag: chipped tooth
By Dental Solutions of Winter Haven
February 29, 2016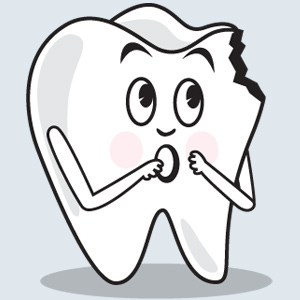 Having a chipped tooth certainly can make life more difficult. It not only keeps you from wanting to smile, but it may also make it harder to eat your favorite foods. And that can be a major problem — especially if you need to eat up to 80 pounds of bamboo every day to stay healthy.
Just ask Bai Yun, the female giant panda at the San Diego Zoo. The 23-year-old animal recently chipped one of her lower canines, and her keepers were concerned that it might impair her ability to get good nutrition (pandas spend as many as 12 hours a day munching on the woody plants). So they decided it was time for a little dental work!
What followed was not unlike a regular visit to the dental office… except that, instead of sitting in a chair, the 227-pound panda reclined on a large table. After being anesthetized, the patient's teeth were examined, and x-rays were taken. A composite resin was applied to the damaged tooth, and it was cured with a special light. After the repair work was done, her teeth were given a professional cleaning. When the anesthesia wore off, Bai Yun was released in good health — and ready to eat more bamboo.
Tooth bonding with composite resin is the restoration of choice in many situations. This method can be used to repair small chips or cracks in the teeth, and to clear up some spacing irregularities. The resin itself is a mixture of tough, translucent plastic and glass components that can be made in a number of different shades, which look remarkably like the tooth's natural enamel coating. And the bonding material links up so well with the tooth structure that this treatment can be expected to last for years.
Another benefit of bonding is that it can be done right in the office — there's no lab work involved (as there could be for veneers or crowns, for example). That makes it a relatively simple and economical treatment that can typically be completed in a single visit. It's ideal for fixing minor flaws that don't involve a great deal of tooth structure. It's also a cost-effective solution for teenagers who need cosmetic dental work, but must wait until they have stopped growing to get more permanent restorations.
While it isn't usually as long-lasting as restorations like crowns and veneers, cosmetic bonding is a minimally invasive, reversible treatment that can keep your smile healthy and bright for years to come. And that's important — whether or not you spend most of your day eating bamboo and posing for snapshots at the zoo.
If you have questions about whether cosmetic bonding could help your smile look its best, please contact us or schedule an appointment for a consultation. You can learn more by reading the Dear Doctor magazine articles "Repairing Chipped Teeth" and "Artistic Repair Of Front Teeth With Composite Resin."
By Dental Solutions of Winter Haven
July 31, 2012
When choosing among different ways to solve a problem, knowledge is power. In the case of selecting the best repair for a dental problem, count on your team of dental professionals to advise you. But you as the patient make the final decision, and it helps to thoroughly understand the different options, their advantages and disadvantages. If you have a chipped or broken front tooth, your likely repair options are composite resin or porcelain veneer.
Composite resins are synthetic materials that can be colored to match your natural teeth. The material is bonded to the tooth surface using adhesives that become part of the tooth structure, strengthening the original tooth. The repair looks as good as, or even better than, your original tooth. Such repairs can be used to restore small to large chips and other damage caused by decay or trauma.
Since the composite resin repair is applied directly to the tooth in the dental office, the repair can be made in a single appointment. You do not need to use a temporary repair while waiting for the final replacement to be made at a dental laboratory. This also means that the repair will cost less.
Another advantage of composite resin is that less of the healthy tooth needs to be removed to prepare the tooth to receive the replacement, since it bonds directly to the original tooth structure.
Porcelain veneers are very thin layers of tooth-colored porcelain that are also bonded to the tooth. They are usually recommended in situations with more serious injury or risk to the tooth, such as teeth that have been fractured, treated for root canal, or injured in contact sports.
Application of porcelain veneers may require more tooth preparation (in which more of the original tooth material must be removed) before the restoration can be bonded in position. Bonded porcelain veneers are likely to be longer-lasting than composite resins. They must be fabricated in a laboratory, so they require more than one visit and cost more.
All of the above are factors to consider in choosing composite resin or porcelain veneer to restore your chipped or damaged tooth. As usual in making such decisions, the final choice will depend on your individual situation.
Contact us today to schedule an appointment to discuss your questions about bonding to repair chipped teeth. You can also learn more by reading the Dear Doctor magazine article "Artistic Repair of Front Teeth with Composite Resin."