Posts for tag: bad breath
By ental Solutions of Winter Haven
August 22, 2020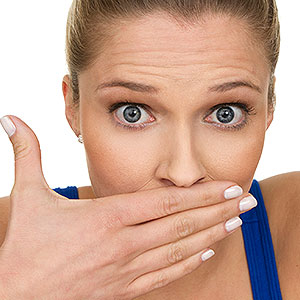 When they weren't building pyramids or wrapping mummies, the ancient Egyptians mixed herbs and spices with a little honey to make small lozenges. Their purpose: to fight halitosis, that perennial scourge of polite society. More specifically, they were the first known breath mints.
Just like our ancient forebears, we're still trying to stop bad breath—to the tune of $12 billion annually for breath-freshening products. For the most part, though, fresher breath is still largely the byproduct of dedicated oral care. In recognition of National Fresh Breath Day this August 6th, here are 4 simple things you can do to help eliminate embarrassing bad breath.
Remove dental plaque. Mouth bacteria proliferating within a thin buildup of food particles is called dental plaque—the main culprit in 85—90% of bad breath cases. These bacteria can emit volatile sulfur compounds (VSCs), which have a characteristic rotten egg smell. You can reduce bacteria and their foul odors by removing plaque with daily brushing and flossing and twice-a-year dental cleanings.
Boost your saliva. An inadequate flow of saliva, often a side effect of certain medications, can leave your mouth dry and susceptible to bacterial growth and subsequent bad breath. You can increase saliva flow by drinking more water, using saliva-boosting aids, or speaking with your doctor about alternative medications with less of a dry mouth side effect.
Brush your tongue. Some people find their tongue is "Velcro" for tiny food particles, which attract bacteria. It's always a good idea to brush your tongue (especially toward the back) to loosen and remove any clinging food particles. If it continues to be a problem, you can also employ a tongue scraper for a more thorough tongue cleaning.
Get a checkup. Although bacterial growth from inadequate hygiene is the usual cause for bad breath, it isn't the only one. Dental diseases like tooth decay or gum disease can also create unpleasant mouth odors, as well as serious conditions like diabetes, kidney infections or certain cancers. If your bad breath persists despite diligent hygiene, see us or your doctor for a more comprehensive exam.
During our long war with halitosis, we've learned a thing or two about its causes. We've also learned that practicing good oral habits is the best thing you can do to beat bad breath.
If you would like more information about controlling bad breath, please contact us or schedule a consultation. To learn more, read the Dear Doctor magazine article "Bad Breath: More Than Just Embarrassing."
By Dental Solutions of Winter Haven
December 04, 2012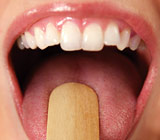 If you have ever had halitosis (bad breath), you know it can cause you to feel self-conscious and embarrassed. And while the odor is typically a primary concern, determining what is causing it is a task we can assist you with resolving. This is especially true when you experience bad breath outside of those times when you've just consumed pungent foods and drinks such as coffee, garlic or raw onions. For example, it is quite a different scenario to have family members, friends, co-workers or even total strangers consistently complaining or using body language to denote your bad breath. If the later best describes your situation — and be honest with yourself — then you need a thorough dental exam to discover the ultimate cause (or causes) of your halitosis. This is especially important because so many people are unaware that there can be numerous oral and/or general health concerns triggering their bad breath.
Most unpleasant mouth odors arise from the more than 600 types of bacteria found in the average mouth, with several dozens of these bacteria being the primary culprits for producing foul odors. And while food particles left between teeth can be key contributors to bad breath, the tongue or more specifically, the back of the tongue, is the most common location. Dry mouth is another cause for bad breath, as evident by the dreaded morning breath we all experience from mouth breathing as we sleep. Bad breath is also caused by certain medical conditions such as liver disease, lung infections, diabetes, kidney infections or failure and cancer.
The good news is that we can work with you to develop an effective treatment for your bad breath. And if necessary, we can work with your physician on a total treatment plan should your condition be due to health conditions outside your mouth. However, if your bad breath originates in your mouth, we may recommend any or all of the following to return your mouth to optimal oral health:
Oral hygiene instruction to learn the proper ways to brush, floss, scrape your tongue and use mouthwashes
Denture hygiene instruction for proper cleaning and maintenance of both full and partial dentures and bridgework
Periodontal (gum) therapy that includes professionally cleaning your teeth (scaling), smoothing your teeth's root surfaces (root planning) and possible antibiotic therapy
Removal of tooth decay where large, open cavities (caries) are present
Repair of broken fillings
Removal of wisdom teeth (third molars) with gum flaps
Treatment of yeast infections (candidasis)
To learn more about the causes and treatments for halitosis, read the Dear Doctor article, "Bad Breath — More Than Just Embarrassing."
Ready To Take The Next Step?
If you want to address your own concerns with bad breath, contact us today to schedule a consultation for an examination and treatment plan. You will find yourself smiling and laughing more once you are confident you have a clean, healthy mouth.