Posts for: July, 2019
By ental Solutions of Winter Haven
July 19, 2019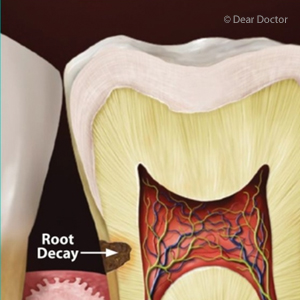 Tooth decay is a destructive oral disease, which along with periodontal (gum) disease is most responsible for tooth loss. And as you age, your disease risk goes up.
One form of decay older people often experience is root cavities. Unlike those occurring in the visible crown, root cavities often occur below the gum line and are especially destructive to tooth structure.
That's because, unlike the crown protected by ultra-hard enamel, the roots are covered by a thin, mineralized material called cementum. Although cementum offers some protection, it can't compare with the decay-resistant capacity of enamel.
The roots also depend on gum coverage for protection. But unfortunately, the gums can shrink back or recede, usually due to gum disease or over-aggressive brushing, and expose some of the root surface. With only the cementum to protect them, the roots can become highly susceptible to decay. If a cavity forms here, it can rapidly advance into the tooth's interior, the pulp, weakening the tooth and increasing its risk of loss.
To stop the decay, we must treat root cavities much like we do with crown cavities: by removing any decayed structure and then filling the cavity. But root cavities are often more difficult to access depending on how far below the gum line they extend. We may need to perform minor gum surgery to expose the cavity to treat it.
But as with any form of tooth decay, the best strategy is to prevent root cavities in the first place. Your first line of defense is a daily hygiene habit of brushing and flossing to remove dental plaque, the main cause for tooth decay. You should also visit your dentist at least twice a year (or more, if recommended) for more thorough cleanings and checkups. Your dentist can also recommend or prescribe preventive rinses, or apply fluoride to at-risk tooth surfaces to strengthen them.
You should also be on the lookout for any signs of gum disease. If you see swollen, reddened or bleeding gums, see your dentist as soon as possible. Stopping possible gum recession will further reduce your risk of root cavities.
If you would like more information on the prevention and treatment of tooth decay, please contact us or schedule an appointment for a consultation. You can also learn more about this topic by reading the Dear Doctor magazine article "Root Cavities: Tooth Decay Near the Gum Line Affects Many Older Adults."
By ental Solutions of Winter Haven
July 09, 2019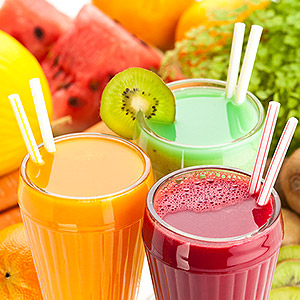 All-natural fruit juice with no additives: now what could be wrong with that? Nothing—unless your child is over-indulging. Too much of even natural fruit juice could increase their risk of tooth decay.
To understand why, we first need to look at the real culprit in tooth decay: mouth acid produced by oral bacteria as a byproduct of their digestion of sugar. Acid at high levels softens and erodes tooth enamel, which causes tooth decay. Acid levels can rise as populations of bacteria increase often fueled by sugar, one of bacteria's primary food sources.
And not just the added sugar found in soft drinks, snacks or candies—even fructose, the natural sugar found in fruit, can feed bacteria. To lower the risk of tooth decay, dentists recommend limiting the daily amount of sugar a child consumes, including natural fruit juices without added sugar.
That doesn't mean you should nix natural fruit juices altogether—they remain a good source of vitamins, minerals and other nutrients. But you'll need to keep your child's juice consumption within moderation.
As a guide, the American Academy of Pediatrics (AAP) has issued consumption recommendations for children regarding all-natural fruit juice. The academy recommends the following daily juice amounts by age:
7-18: 8 ounces (1 cup) or less;
4-6: 6 ounces or less;
1-3: 4 ounces or less;
Under 1: No juice at all.
You can further reduce your child's decay risk by limiting their juice intake to mealtimes, a good practice with any sweetened beverage. Sipping through the day on juice or other sweetened beverages can cause some sugar to stay in the mouth over long periods. This can interfere with the natural ability of saliva to neutralize any acid buildup.
If you're wondering what children could drink instead of juice, low-fat or non-fat milk is an acceptable choice. But the most tooth-friendly liquid to drink is plain water. Drinking nature's hydrator is not only better for their overall health, by reducing the risk of tooth decay, it's also better for their teeth.
If you would like more information on how sugar can affect your child's dental health, please contact us or schedule an appointment for a consultation. You can also learn more about this topic by reading the Dear Doctor magazine article "Squeeze Out the Juice."