Posts for: February, 2019
By ental Solutions of Winter Haven
February 19, 2019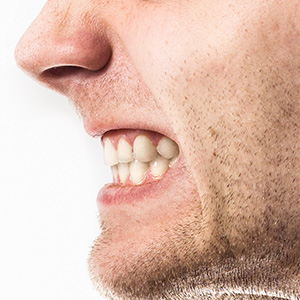 Chronic stress is like a tea kettle on the boil—all that "steam" has to go somewhere. We often do this through behaviors like biting our nails, binging on comfort food—or grinding our teeth. That latter habit, however, could have a detrimental effect on teeth, including excessive enamel wear or even fractures.
Also known as bruxism, teeth grinding is the forceful and often involuntary contacting of teeth that often generates abnormally high chewing forces. While not considered a relatively big problem with young children, it can be if you're an adult. While there could be other causes, chronic stress is often a  prime factor for adults with bruxism.
While teeth grinding can occur during the day when you're awake, it often occurs at night during sleep and may be associated with other sleep disorders like snoring. Although you might not be consciously aware of a grinding episode as it happens, you may notice its effects the next morning, including sore jaws or headaches. Over time, your dentist may begin noticing its effects on your teeth.
So, how can you lessen teeth grinding? For starters, if you're a tobacco user, quit the habit. Many studies indicate tobacco users report twice the incidence of teeth grinding as non-users. Excessive caffeine, alcohol or drug use can also contribute.
People have also found it helpful to address chronic stress through a number of relaxation techniques like meditation, more relaxing bedtime preparation, bio-feedback or therapy to "de-stress." Although there's not a lot of empirical evidence for these techniques' effectiveness, there's much anecdotal data from people who've found stress relief from them.
There's also a dental treatment using an occlusal guard that, while not stopping bruxism, can help prevent dental damage. Usually worn during sleep, the custom-made guard fits over the teeth of one jaw, usually the upper. Its high impact plastic prevents the teeth from making solid contact, thus reducing the biting force. You may also be able to reduce bruxism effects through dental work and orthodontics,
You and your dentist can explore the options to find the right treatment strategy for you. By taking action now, you may avoid much more extensive—and expensive—problems with your teeth down the road.
If you would like more information on teeth grinding and what to do about it, please contact us or schedule an appointment for a consultation. You can also learn more about this topic by reading the Dear Doctor magazine article "Teeth Grinding: Causes and Therapies for a Potentially Troubling Behavior."
By ental Solutions of Winter Haven
February 09, 2019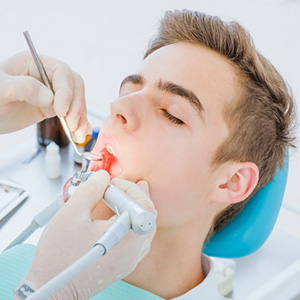 Long ago dental work could be painful and stressful—often for both patient and practitioner. Thankfully, that time is long past: today, most procedures are painless in large part due to local anesthesia.
Local anesthetics are numbing substances applied to specific areas of the body like the teeth and gums to temporarily block pain during a procedure. And because they only affect a localized area of the body, you remain conscious and alert throughout the procedure.
To achieve the level of numbing necessary for dental work, we often need to deaden the gums using a needle to deliver the anesthetic. But then this poses a secondary pain concern—the needle stick itself.
Again, topical anesthesia comes to the rescue in the form of a swab, patch or spray applying an anesthetic directly to the top layer of the gums at the injection site. This numbs the area and prevents you from feeling the needle stick. It's highly probable, therefore, that from start to finish you won't feel any discomfort during your dental work except perhaps for a little pressure.
Local anesthesia truly is a game changer for dental care—and not just for the patient. A dentist who's concerned about their patient's comfort level may work hurriedly to complete a procedure. But if their patient is relaxed, the dentist can work calmly and methodically. The result is better, more focused care.
For all its improvements in the patient experience, though, there has been one consistent complaint—the numbness that often lingers for a while after the procedure is over. But there have been advances in recent years that have helped reduce this irritation: new anesthetic agents (even some that can reverse the anesthetic effect) and fine-tuned dosages can help keep residual numbing to a minimum.
Not all procedures like routine teeth cleanings or enamel shaping require anesthesia. But when it's appropriate, local anesthesia can make your next dental visit much more pleasant.
If you would like more information on how anesthesia benefits your dental care, please contact us or schedule an appointment for a consultation. You can also learn more about this topic by reading the Dear Doctor magazine article "Local Anesthesia for Pain-Free Dentistry."